Down Goes Biden' - Watch President Fall-Up The Stairs To Air Force One
MAR 19, 2021 - 12:16 PM
Update (1245ET): Phew! A White House official has confirmed that President Biden, after stumbling aboard Air Force One on his way to Georgia, "is fine."
May we humbly suggest this addition?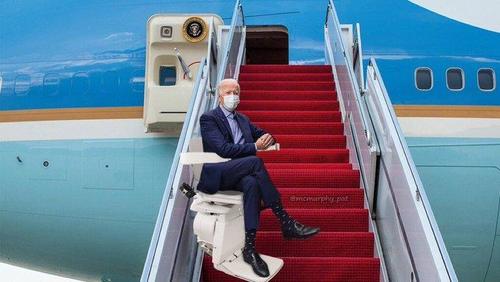 How is President Biden supposed to negotiate with China when he can't even negotiate a set of stairs?
After a brief tour through the South where he stopped in Georgia to meet with leaders of the Asian-American community in the wake of this week's deadly shooting at a spa and massage parlor in Atlanta, Biden and his entourage returned to Air Force One.
From another angle:
The clip immediately went viral after finding its way to Twitter, as online wits joked about the timing (coinciding with the conclusion of a US-China summit where China's aggressive posture made headlines).
We know who is to blame for the fall of course...
Think that's an exaggeration? Here's CNN in 2017...
It's not exactly a vote of confidence, coming just hours after he mistakenly referred to his Veep as "President" Harris. Fortunately, an aide to the president confirmed that he was "doing fine" after the spill.
Oh and just one more thing. Remember when Biden mocked Trump's ramp walk at West Point...
We'll give the final word to Don Jr who, as usual, sums up the farce perfectly: "I remember the press bashing Trump for touching the rail once. Biden falls repeatedly but I'm sure he's the picture of health. No wonder all our enemies are pouncing simultaneously and mocking him publicly. "