"Panic, Meltdowns, People Crying..."
"Panic, Meltdowns, People Crying..."
Zero Hedge
BY TYLER DURDEN
THURSDAY, MAR 16, 2023 -
Forget SVB, Credit Suisse is the real thing - a SIFI that could bring it all down - and that is perhaps why the world his pet rabbit decided to buy some counterparty risk protection on the Swiss bank...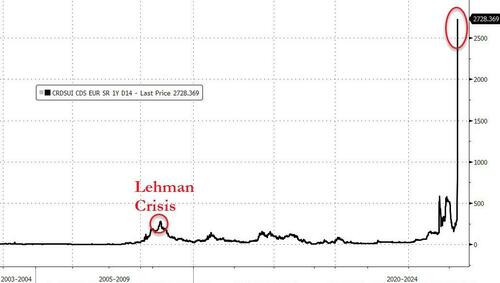 Source: Bloomberg
Credit Suisse has been a known issue for years, however, today's rather public refusal by the Saudis to throw any more money at the Swiss bank, could have been the straw on this camel's back, sending the stock to new record lows...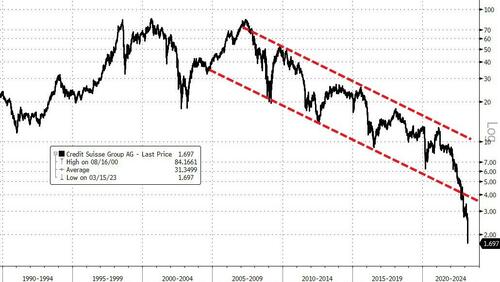 Source: Bloomberg
Credit Suisse ADRs (which traded after the late-day statement from SNB and Finma) shows the stock was not impressed...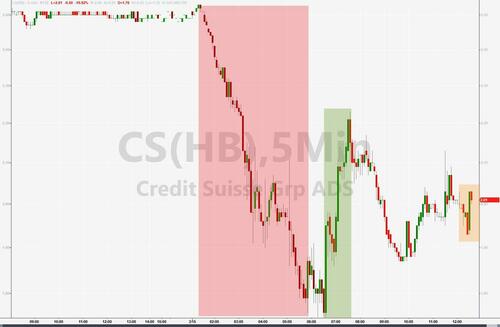 Charles Gasparino tweeted the following, which seemed to sum things up well:
Breaking from a Credit Suisse employee: "panic, meltdowns, people crying."
European bank stocks crashed 7% today, down 15% in the last week, erasing all the gains YTD...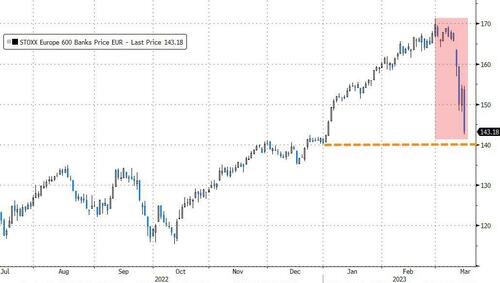 Source: Bloomberg
And European credit risk soared broadly...
Source: Bloomberg
German 2Y, 5Y, & 30Y bond yields crashed by their most on record today...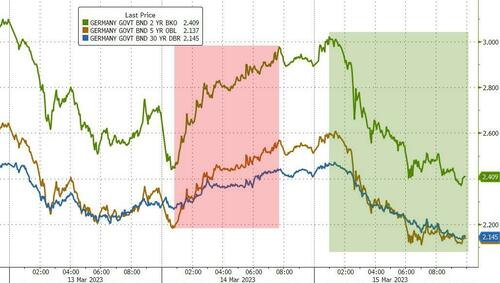 Source: Bloomberg
As market expectations for The ECB tomorrow plummeted from a 100% chance of 50bps a week ago to just barely pricing in a 25bps hike...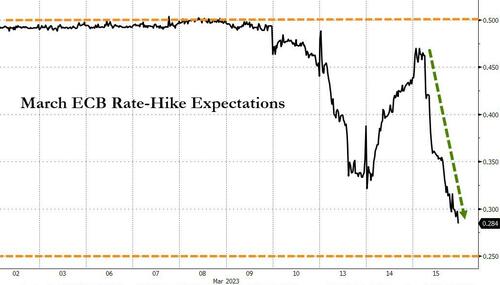 Source: Bloomberg
And that derisking spread around the world, dragging US stocks and bond yields down, dollar and gold higher...
US equities plunged around 2% on the Credit Suisse contagion, but then well after EU closed, headline suggesting a statement from Swiss authorities prompted a rapid buying-panic, lifting Nasdaq green. But when the statement hit , it was disappointing and stocks faded back into the red with Small Caps the biggest losers (lots of small financials)...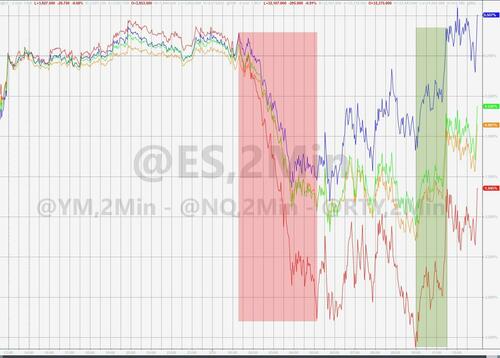 The S&P 500 briefly went negative year-to-date before the Swiss support headlines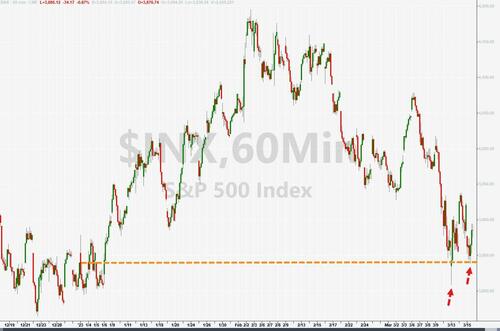 Late in the day saw 0DTE traders pushing negative against the rally...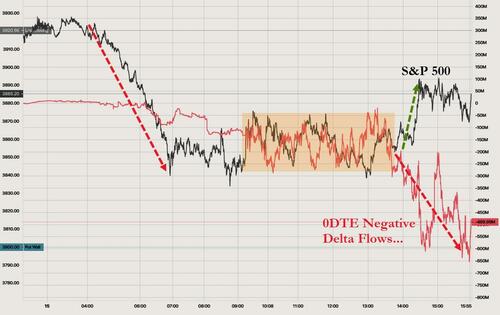 Regional Banks extended recent losses today (despite the bounce back this afternoon)...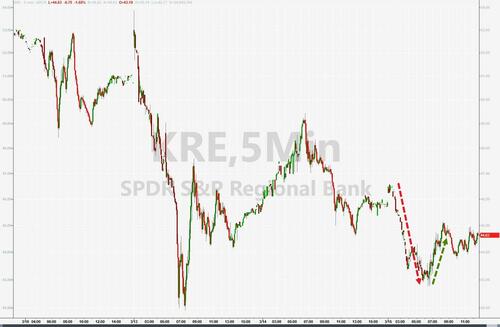 So much for the 'bailout' - here are some regional bank stock's performances since Friday's close...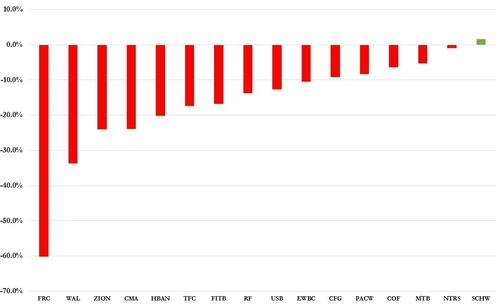 Treasuries were aggressively bid on safe-haven flows from Credit Suisse stress, with the short-end outperforming, but some of that was sold away after the 'show of support' headlines. On the week, amid all the incredible volatility, 30Y yield are practically unchanged while 2YU yields are down 65bps...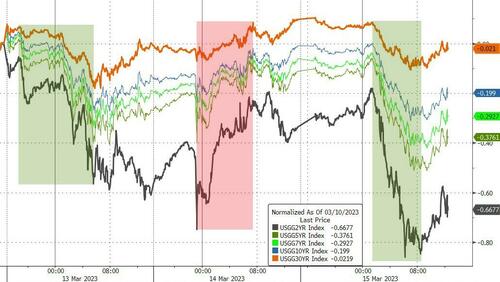 Source: Bloomberg
The 2Y Yield crashed to its lowest since Sept 2022, back below 4.00%...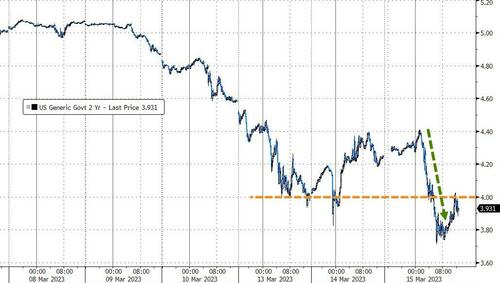 Source: Bloomberg
The 10Y yield tested back below its 200DMA once again but found support...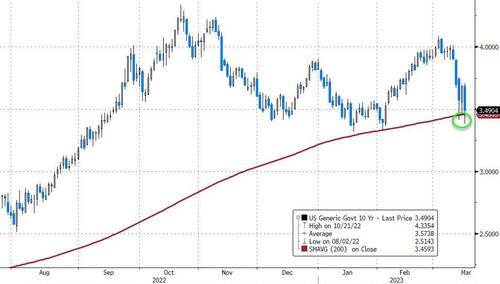 Source: Bloomberg
The yield curve continues to steepen, with 2s30s at its least-inverted since Oct 2022...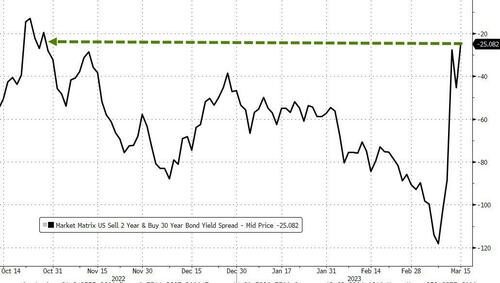 Source: Bloomberg
Fed rate-hike expectations crashed again today, below Monday's lows, pricing in over 100bps of rate-cuts by year-end at today's lows and for March, the market says it's a coin-toss between 'pause' and 25bps...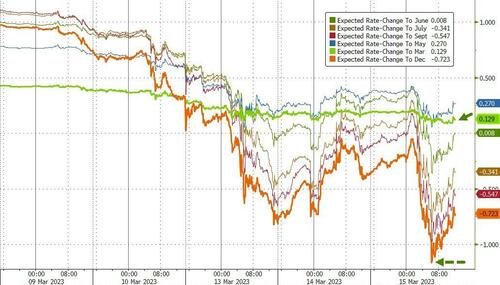 Source: Bloomberg
The last few days have seen the market's expectations of The Fed's path ahead totally collapse, signaling a panic series of cuts is coming soon...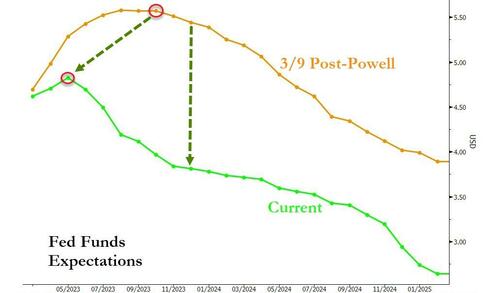 Source: Bloomberg
Before we leave bond-land, we note that the 6mo T-Bill yield topping the S&P 500 earnings yield last week (for the first time since Jan 2001), appears to have marked an inflection point...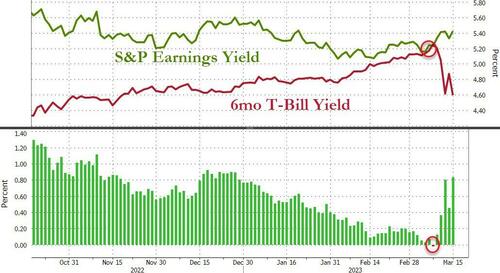 Source: Bloomberg
The dollar saw safe-haven flows today and rallied back to Friday's highs...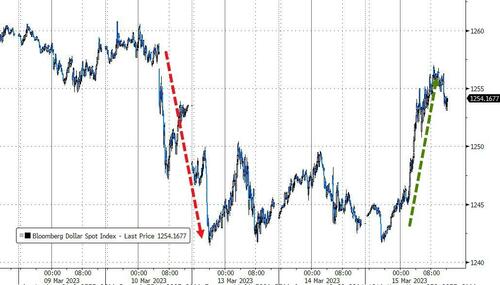 Source: Bloomberg
Bitcoin traded flat to slightly lower today, finding support at $24,000...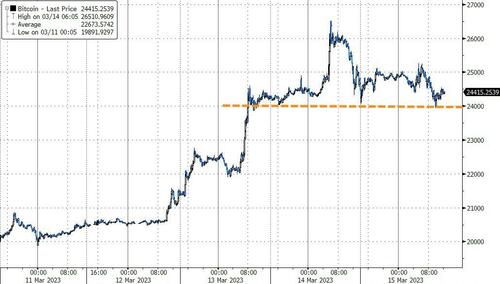 Source: Bloomberg
Oil prices collapsed, with WTI suffering its worst daily decline in six months back below $70, plunging to its lowest since Dec 2021 before bouncing back later in the afternoon...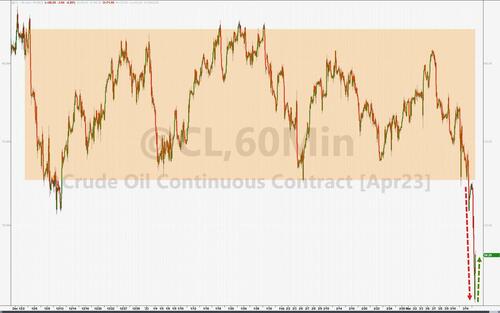 Copper crashed too, nearly red on the year, after 'meh' China data and global stress...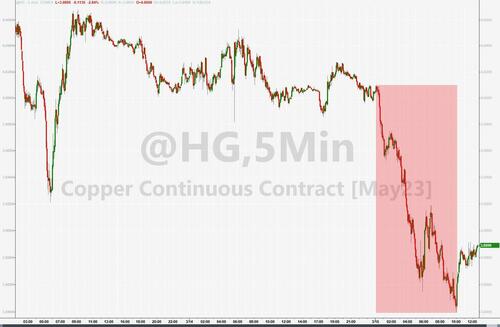 Gold extended gains today, despite dollar strength...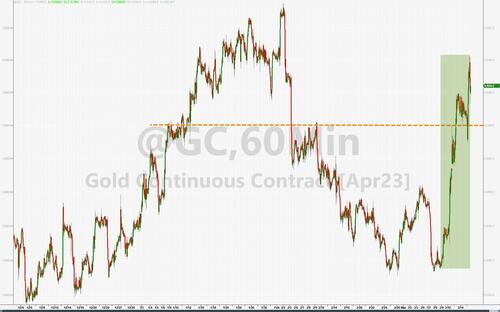 Finally, systemic risk indicators are flashing red as our global dollar liquidity proxy crashed further today as demand for dollars abroad is soaring...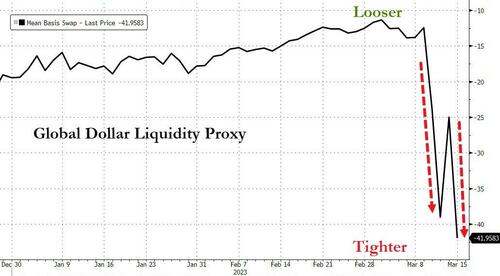 Source: Bloomberg
Time for some giant swap lines and jawboning. Who will save the world again this time?