ISRAEL TO ATTACK GAZA, LEBANON - IMMINENT
ISRAEL TO ATTACK LEBANON - IMMINENT
06 APRIL 2023
Israel is going to retaliate for rockets fired from Lebanon. The Israeli attack is IMMINENT and "will be more forceful than typical."
The Israeli Foreign Ministry has instructed Ambassadors to tell their host nations Israel will retaliate against Lebanon and will use serious force in doing so.
Ambassadors around the world are now notifying their host governments of this coming retaliation.
.
UPDATE 1:29 PM
Jordanian Foreign Ministry: We are in a dangerous stage and what is happening on the Lebanese border is a reaction to what we witnessed in Al-Aqsa Mosque.
Emergency meeting of Israeli Cabinet Ministers begins right now. "The dilemma: too limited a response will be interpreted as weakness, too strong a response will lead to war with Hezbollah"
Multi front response expected, in Gaza and Lebanon.
All Israeli military leave has been cancelled.
China is deeply concerned over the escalation of the Palestine-Israel conflict.
UPDATE 1:46 PM
Israel has informed members of the UN Security Council & the UNIFIL with information about the rocket attack from Lebanon and the intention to respond.
At least 30 rockets were fired from Lebanon, five of them reached Israeli territory, the rest were shot down by the Iron Dome missile defense system, local media reported.
UN chief condemns rockets fired from Lebanon into Israel, urges 'restraint'
COVERT INTEL - FROM INSIDE ISRAELI CABINET MEETING
The discussion inside the Israeli Cabinet Meeting is deadly serious. All factions of the Knesset are offering their full support to the government for a "harsh" response. Israel is now preparing for "several days of intense fighting"; IDF is, at this moment, presenting Israeli political leadership with several retaliation options.
UN PEACEKEEPERS ON LEBANON BORDER ORDERED INTO BOMB SHELTERS; ISRAEL TO ATTACK HEZBOLLAH IN LEBANON
06 APRIL 2023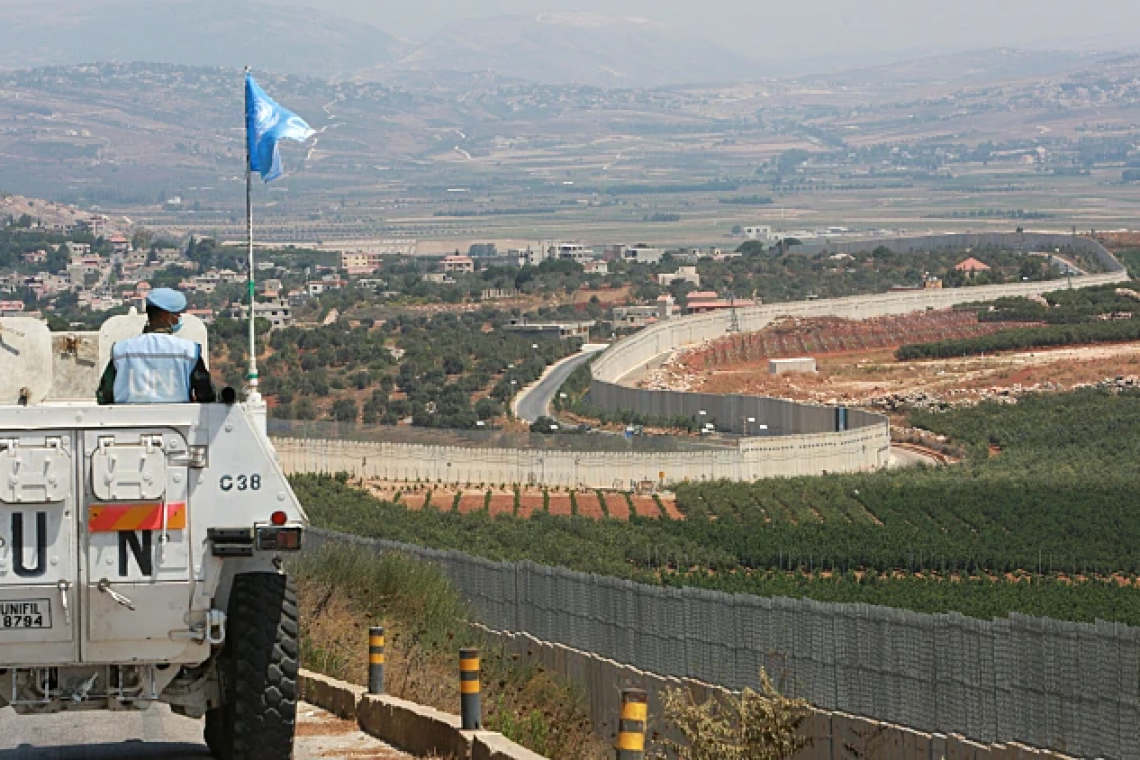 United Nations Peacekeeper troops on the border between Lebanon and Israel have been ordered to take cover in bomb shelters immediately. It appears Israel is going to launch military strikes against Hezbollah inside Lebanon, after rockets were fired into Israel.
This escalation of the decades-long hostilities between Israel and . . . . well . . . . just about everybody . . . was triggered when Israeli police and military units stormed the Al-Aqsa mosque as shown in the brief video below:
Israeli police fired stun guns and beat worshippers with batons. Hundreds were hand-cuffed or otherwise restrained with plastic zip ties, face down on the floor of their Mosque.
This is a massive and volatile situation.
Palestinians have been restricted from accessing the Mosque during the Muslim holy days of Ramadan. Males under age 55 need a special PERMIT to enter their house of worship.
The governments of Egypt and Jordan have filed Diplomatic protests over Israeli actions.
Last night, rocket barrages fired from the West Bank and Gaza strip hit sites in Israel. The Israeli military responded with force.
Then, unexpectedly, more rockets were fired, these from inside Lebanon. Hezbollah runs Lebanon and in the past, Hezbollah seriously pounded Israeli forces, capturing some soldiers, and forcing Israel to retreat.
Now, it seems Israel is planning air strikes or perhaps military incursion into Lebanon, and UN Peace Keepers in the area have been told to shelter immediately in anticipation of Israeli military action.
Israeli-made cluster mortar shells were found in the Ukrainian Armed Forces.
06 APRIL 2023
Israel has been caught red-handed supplying deadly cluster munitions to Ukraine for use against Russian forces.
Despite the fact that Israel SAYS it does not supply weapons and ammunition to Ukraine, it turns out that the Israel Defense Forces have transferred a large batch of 120-mm mortar ammunition to Ukraine.
Apart from the fact that such ammunition has a high destructive power, it turned out that the ammunition in question is M971, which is a cluster munition that not only causes serious destruction, but also poses an additional threat of landmines. This is not the first time the Israeli side has supplied such munitions to Ukraine.

In the footage published by the Ukrainian military, viewers can see that these are indeed M971 munitions. Their exact quantity transferred to Ukraine is not disclosed, but there could be tens of thousands of shells.

The Israeli 120 mm M971 mortar ammunition is equipped with 24 submunitions, which are scattered in open terrain and explode when dropped on the ground. The ammunition is actively used to defeat manpower and armored vehicles.

Deliveries of such munitions to Ukraine indicate that Israel is directly participating in the aggression against Russia.
UPDATE 1:46 PM EDT --
Israel has informed members of the UN Security Council & the UNIFIL with information about the rocket attack from Lebanon and the intention to respond.
RELATED ACTION IN . . . SYRIA . . . .
The Iranian Revolutionary Guards are evacuating sites and headquarters near Damascus International Airport in preparation for a possible Israeli attack in Syria..

Also, the centers of the Syrian National Army are increasing the Air Defense batteries in the center and south of Syria.
Military camps in Syria raised their alert level
UPDATE 5:05 PM EDT --
Israeli artillery is NOW deployed near the Blue Line separating Israel and Lebanon.
The IDF is recalling all military personnel from vacations and leave.
All public bomb shelters have been ordered to open.
PALESTINIAN Joint Operations Room says it is ready to "confront and respond with all force" to any Israeli action in the Gaza Strip.
Deployment of Iron Dome batteries in Tel Aviv and the surrounding area it. THIS means without doubt, Israel __is__ going after Hezbollah in Lebanon. Only Hezbollah has missiles that can reach Tel Aviv. If Israel is now deploying Iron Dome Batteries in and around Tel Aviv, then they absolutely ARE going to hit Hezbollah
We now have reports of jets up over the Gaza Strip, Northern Israel and southern Lebanon.
MULTIPLE EXPLOSIONS IN NORTHERN GAZA STRIP. ISRAELI RETALIATION HAS BEGUN
Big explosions in the south, center and north of Gaza as a result of Israeli bombing.
Israeli assault on Gaza underway: multiple targets attacked simultaneously, heavy bombings reported in some Hamas strongholds.
IDF confirms they have begun airstrikes on targets in Gaza
UPDATE 5:45 PM EDT --
some Israeli Strikes against Gaza Strip:
UPDATE 6:22 PM EDT --
Rocket launch sites being prepared in Lebanon. Israeli fighter jets seen over Beirut, Lebanon.