'Rich Men North Of Richmond' Artist Warns America Will Be Lost In A Generation Unless Country Changes Course
'Rich Men North Of Richmond' Artist Warns America Will Be Lost In A Generation Unless Country Changes Course
TUESDAY, AUG 22, 2023 -
Oliver Anthony's anthem for the working class, "Rich Men North Of Richmond," continues to top the charts on iTunes. On Saturday, he gave a free concert in Moyock, North Carolina, attracting thousands. After the show, he expressed grave concerns about the country's current direction, suggesting that without significant change, it may not sustain 'more than another generation.'
Fox News interviewed Christopher Anthony Lunsford (Oliver Anthony's real name), who provided a message of 'unity' -- something the Biden administration has struggled with while it promotes differences and divides this nation. He called out "corporate media" and "education," which is "making everyone identify each other's differences and not their similarities."
Lunsford spoke more on the unity subject while also mentioning: "If we continue on the path that we're going down now, culturally, we won't have a country very long — 5 years? 50 years? I don't know."
As of Monday afternoon, Rich Men North Of Richmond is still the number one iTunes song.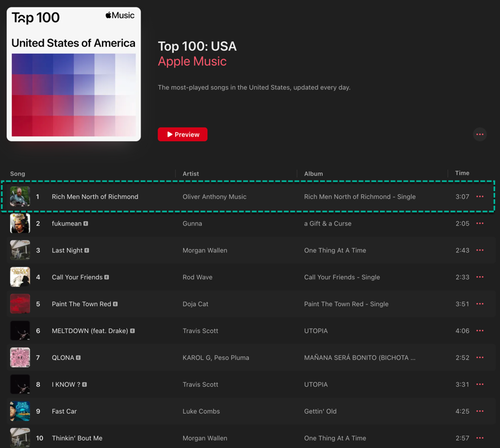 oh, and there's this headline from Billboard.

Country legend John Rich said, "Oliver Anthony has the #1 song in America, and I have the #1 record, and neither of us have record deals. I texted Oliver to congratulate him and he responded "God is good!" Yes He is my friend, yes He is❤️ Thank you to all the supporters of our music, it's truly humbling."
Last week, Lunsford said he turned down a $8 million deal from stunned music industry executives. He explained this on Facebook in a lengthy post:
People in the music industry give me blank stares when I brush off 8 million dollar offers. I don't want 6 tour buses, 15 tractor trailers and a jet. I don't want to play stadium shows, I don't want to be in the spotlight. I wrote the music I wrote because I was suffering with mental health and depression. These songs have connected with millions of people on such a deep level because they're being sung by someone feeling the words in the very moment they were being sung. No editing, no agent, no bullshit. Just some idiot and his guitar. The style of music that we should have never gotten away from in the first place.
We noted last week, Is Anyone Surprised? Left-Wing Media Doesn't Like 'Rich Men North Of Richmond'... Democrats describe the song as a "right-wing anthem" laced with "conspiracy theories."
Perhaps this is why the political elite north of Richmond hate the most viral song in America... It could be because it encourages the unity of the masses.
... and more from Michael Shellenberger.
Just remember this Ron Paul quote...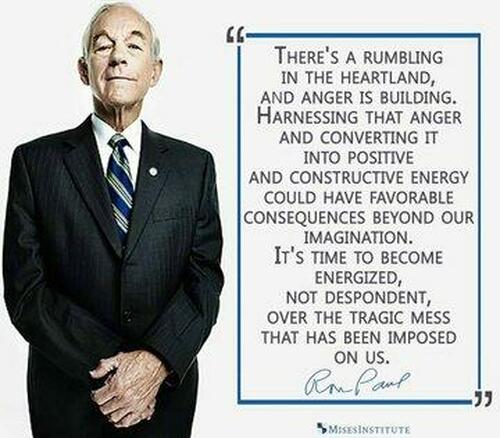 Elites have become masters of deceit and spent decades distracting, dividing, and conquering the masses. Maybe this time, the scheme that has left everyone zombified for years is falling apart in front of our eyes as people realize they've been brainwashed - manipulated - into a "us" against "them mindset." Unifying the masses is the worst-case scenario for elites. Queue the next crisis...