Russia to probe media reports that Ukraine military shot down MH17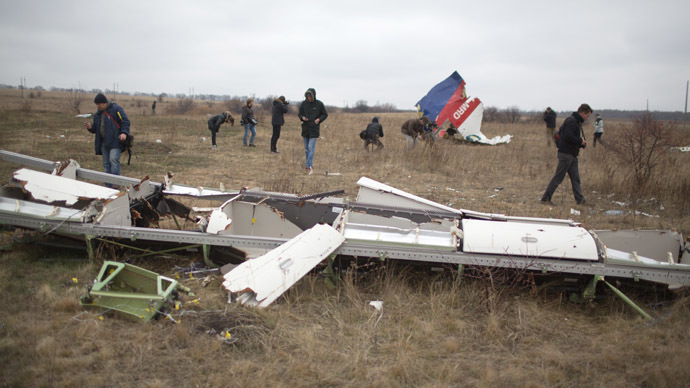 Journalists look at parts of the Malaysia Airlines plane Flight MH17 as Dutch investigators (unseen) arrive at the crash site near the Grabove village in eastern Ukraine. (AFP Photo/Menahem Kahana)
Russia to probe media reports that Ukraine military shot down MH17
RT.com
Russia's Investigative Committee is investigating a Russian newspaper report alleging that a Ukrainian military jet shot down Malaysian Airlines passenger plane MH17 over the rebel-held eastern part of the country last summer.
"Investigators have talked to the editor-in-chief and journalists of the 'Komsomolskaya Pravda' newspaper and have taken the contact details of the Ukrainian citizen [cited in the report]," spokesman for the committee Vladimir Markin said.
He added that the witness would be interviewed as part of the Russian investigation into the use of banned weapons and methods of warfare in Ukraine. The information he shares will be cross-checked, he added.
The witness, who chose to remain anonymous, told Komsomolskaya Pravda (KP) daily that a pilot of a Ukrainian Su-25 fighter jet was behind the MH17 flight downing on July 17. He claimed that the pilot used air-to-air missiles to shoot down the Malaysian Boeing, which he concludes was probably mistaken for a military plane.
"About an hour before the catastrophe, three fighter jets took off [from Dnepropetrovsk]. One of the planes was an Su-25, which was equipped with these kind of [air-to-air] missiles," the witness told KP in an interview, adding that he was on the airport grounds at the time.
Once the surviving pilot got out of the plane, he looked "very frightened."
The Ukrainian pilot's first words as he got out of the jet were: "Wrong plane," the alleged witness claimed. Later in the evening that same pilot also reportedly stated: "The plane happened to be in the wrong place at a wrong time."
While the daily could not immediately verify the interviewee's claims, its readers soon discovered the allegedly involved pilot – Vladislav Voloshin – is real, and has been awarded for his role in Kiev's so-called "anti-terrorist operation" in eastern Ukraine.
Back in July, the Russian military said that it detected a Ukrainian Su-25 fighter jet gaining height towards the MH17 Boeing on the day of the catastrophe.
READ MORE: Ukrainian Su-25 fighter detected in close approach to MH17 before crash – Moscow
"A Ukraine Air Force military jet was detected gaining height, its distance from the Malaysian Boeing was 3 to 5km," said the head of the Main Operations Directorate of the HQ of Russia's military forces, Lieutenant-General Andrey Kartopolov.
Kartopolov added that the presence of the Ukrainian military jet could be confirmed by video shots made by the Rostov monitoring center.
MH17 flight crashed in eastern Ukraine on July 17. All 298 passengers and crewmembers on board the Boeing 777 were killed. The victims were from 10 nations, while most of the passengers – 193 in total – were from the Netherlands. The second-largest number of casualties, 43, was from Malaysia.