Ukrainian forces already use US cluster munitions: Former CIA contractor

Date: Thursday, 5-Feb-2015 10:41:46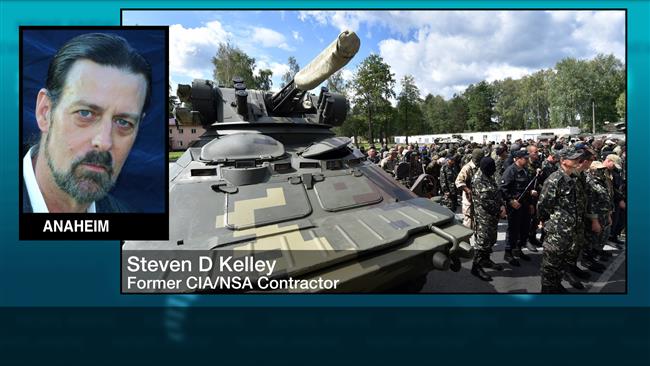 A former CIA contractor says the Ukrainian forces are using cluster bombs and illegal weapons against civilians.
Loading ...
A former CIA contractor says since the Ukrainian forces are using cluster bombs and illegal weapons against civilians, Washington's decision to provide Kiev with further lethal aid does not make any difference.
Steven Kelley made the remarks in an interview with Press TV on Wednesday while commenting on a report that said Pentagon chief nominee Ashton Carter is "inclined" toward providing weapons to Ukraine to help battle pro-Russian fighters.
"Considering that they [Ukrainian forces] are already using cluster munitions, illegal weapons, such as phosphorus, and bombardment on civilian areas, you have to wonder exactly what it is that they could possibly send that would make any difference," said Kelley.
He added that the US State Department claimed that "the purpose of this is to avoid not to get into a proxy war with Russia, but rather to force them to change their behavior."
Washington claims that so far it has only sent "non-lethal" assistance to Ukraine, saying it fears that sending weapons could trigger a tense confrontation with Russia.
The US and its allies accuse Moscow of sending troops into eastern Ukraine in support of the pro-Russian forces. Moscow, however, denies any involvement.
"The reality is that Russia has not invaded; Russia is not sending wholesale arms into that country," said Kelley. "If this was true, there would be satellite photos of this happening."
He went on to say that the efforts "to provoke Russia and try to paint them as the aggressor in this situation is a foolish gamble the United States certainly is not going to achieve their objectives."
"And if they do provide any kind of significant lethal aid, it does cause extensive civilian casualties beyond what they're experiencing in those areas now," Kelley noted.
He also warned that providing Ukraine with more lethal aid "could be extremely dangerous provocation towards Russia."
Ukraine's mainly Russian-speaking regions of Donetsk and Lugansk in the east have witnessed deadly clashes between pro-Russia forces and the Ukrainian army since Kiev launched military operations to silence pro-Moscow protests in mid-April 2014.
Commenting on the situation in Ukraine earlier this week, President Barack Obama admitted that the US brokered a power transition deal in the country.
"We had brokered a deal to transition power in Ukraine," Obama said