Boris Nemtsov killed- act of provocation /MOSSAD,CIA/, or contract killing
. PUTIN TAKES NEMTSOV MURDER UNDER PERSONAL CONTROL - PESKOV
BORIS NEMTSOV'S KILLING COULD BE ACT OF PROVOCATION, COMMITTED IN THE RUN-UP TO OPPOSITION MARCH SCHEDULED FOR MARCH 1 - SOURCE
CRIMINAL CASE OPENED INTO BORIS NEMTSOV'S KILLING - RUSSIAN INVESTIGATIVE COMMITTEE SPOKESMAN MARKIN
NEMTSOV'S DEATH APPEARS TO BE CONTRACT KILLING - SOURCE
INVESTIGATORS QUESTIONING WITNESSES TO NEMTSOV'S MURDER, CAREFULLY EXAMINING CRIME SCENE - INVESTIGATIVE COMMITTEE SPOKESMAN MARKIN
AT LEAST SEVEN SHOTS FIRED AT BORIS NEMTSOV FROM CAR PASSING BY - RUSSIAN
INVESTIGATIVE COMMITTEE SPOKESMAN MARKIN* *




Next to Boris Nemtsov was a young woman, born 1991 in Kiev; Nemtsov was shot 7 times from a passing by car - police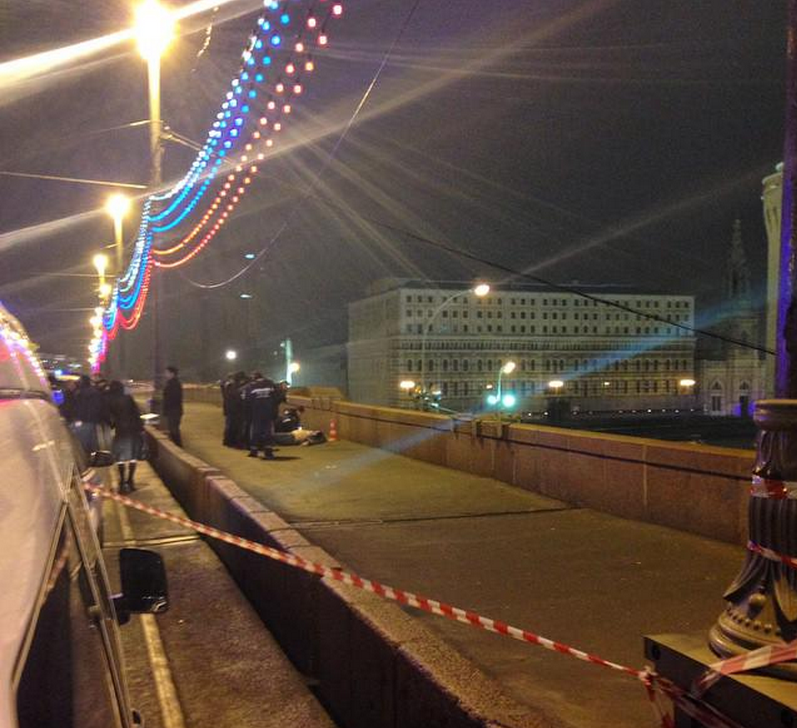 Silver Surfer @RobPulseNews Follow
Appears to be the 1st photo of body of Boris #Nemtsov, shot dead near Kremlin in central #Moscow tonight. @IlyaYashin
The question who did it - a provocation, and if so - who is behind it and why? And of course - how will PUtin respond?
One thing is certain: the full weight of the western media will fall like a ton of bricks on Putin and on what has already been described as Russia's descent "into darkness."
More sanctions are almost certainly imminent, as is the escalation over Syria and the Ukraine conflict.
n