US Marine "Jesus Killers" Hit Team Arrested In Austria
By: Sorcha Faal, and as reported to her Western Subscribers
A new report circulating in the Kremlin today prepared by the Ministry of Defense (MoD) states that a joint counter-terror operation conducted by the Foreign Intelligence Service (SVR) and Austria's Army Intelligence Office (HNA) was able to effectuate the arrest of a 9 member highly skilled US Marine assassination "hit team" at the Vienna International Airport, located in Schwechat, on 19 July.
According to this report, the SVR has had this US Marine "hit team" under surveillance for years after its role in the assassinations of Christian and other religious leaders in Afghanistan, Iraq, Libya and Syria were first discovered.
Dubbed as the "Jesus Killers" by the SVR for their specialization in targeting Christians, this report continues, this "hit team" is a part of United States Marine Corps Forces Special Operations Command (MARSOC) attached to the Alaska Command (AC) based at Joint Base Elmendorf-Richardson, Alaska, and under the direct command of the US Northern Command (NORTHCOM)…which had assumed oversight of the Alaskan Command on 29 October 2014.
Two months prior to NORTHCOM taking over the Alaskan Command, this report notes, MARSOC, on 6 August 2014, re-designated the specific unit this captured US Marine "hit team" belonged to as now being Marine Raiders…in reference to the elite units established by them during World War II to conduct special amphibious light infantry warfare, particularly in landing in rubber boats and operating behind the lines.
Most insidious about these Marine Raiders, this report states, is their strong affiliation with German Nazi symbols, which includes their unit patch containing the "death's head skull" so beloved by Hitler's most loyal and devoted forces.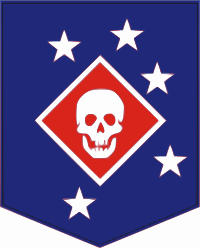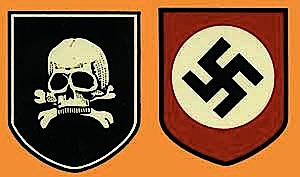 MoD analysts in this report further note that although the "official" Marine Raider designation patch does not contain the "death's head skull", substituting it for a dagger, it is allowed to be worn unofficially, and as reported by the US Marine Corp News Service:
"Regardless of philosophy and lineage, however, MARSOC's Raiders will continue to sport the vintage skull patch, albeit in an unauthorized capacity. Though not formally approved for uniform use, MARSOC troops have made a habit of donning the patch during deployments.
"That insignia is a source of pride and has been a source of pride," said Maj. Ed Norris, the commanding officers of 3rd Marine Raider Support Battalion. "It is something that Marines have identified with T-shirts, with hats, really just to honor the Marines that have gone before us. And now to officially have that is an honor."
And not just a "source of pride" do these Marine Raider "Jesus Killers" have with the Nazis "death's head skull", this report continues, but also with the runic "SS" insignia of the dreaded Schutzstaffel (secret police) that were used from the 1920s to 1945 on Schutzstaffel flags, uniforms and other items as symbols of various aspects of Nazi ideology and Germanic mysticism…and which this exact "hit team" posed with, in 2010, when they were deployed to Afghanistan.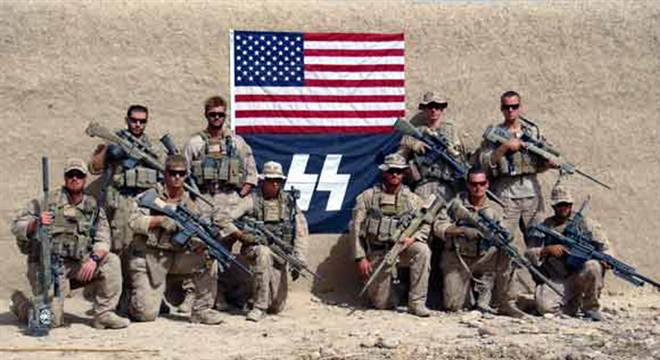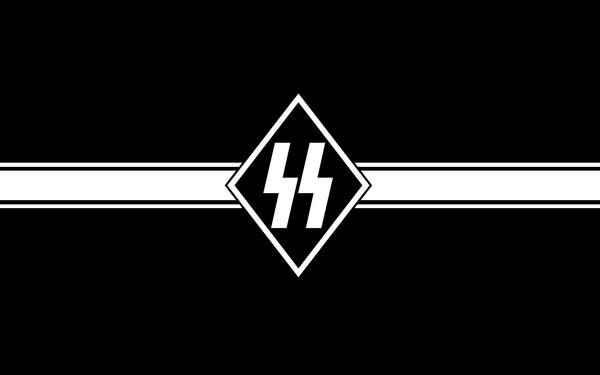 To how exactly these 9 Marine Raider assassins were captured, MoD experts in this report state, came about when on 19 July, SVR "assests" notified Austria's HNA that this "hit team" had boarded Austrian Airlines flight OS-7202 to Vienna where they would then transfer to Austrian Airlines flight OS-7171 with their final destination being Kiev, Ukraine.
The SVR then provided to the HNA "complete photographic/video/audio" evidence that these Marine Raiders were allowed by German airline Lufthansa (the owners of Austrian Airlines), in direct contravention of all European Union and International laws, to board their flight while in the possession of weapons, ammunition and explosives.
Upon Austrian Airlines flight OS-7202 arriving in Vienna, this report continues, HNA agents ordered this 9-member Marine Raider "hit team" to a secure area where they were then asked to indentify the "luggage" containing their weapons, ammunition and explosives.
When the "leader-commander" of this "hit team" refused to answer any questions being asked by the HNA, MoD experts in this report state, they were then all arrested by the HNA and their dangerous contraband was confiscated.
Once arrested, this report says, these Marine Raiders were allowed to call the US Embassy whereupon a "negotiated settlement" was reached whereupon this "hit team", and their weapons, were expelled from Austria and put on the next available flight to Washington D.C.
As to why this Marine Raider "hit team" was being covertly sent to Ukraine in the first place by the Obama regime, SVR intelligence analysts in this report state (and based upon "other intelligence" shared with the SVR by the HNA), was to unite them with their neo-Nazi Right Sector allies who are currently destabilizing Ukraine and are threatening to bring down the West's puppet installed government whose troops are now reported to be completely demoralized.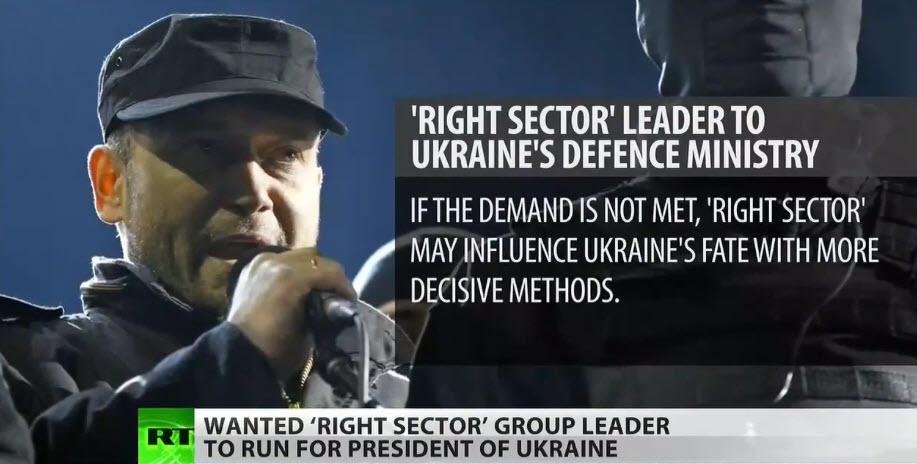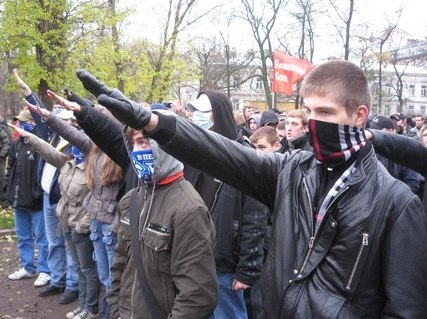 As these Marine Raider "Jesus Killers" have so aptly proved from their previous missions, this report grimly notes, the targeting of religious leaders (especially Christians) in the Obama regime controlled conflict zones around the world leads to mass chaos which in turn leads to failed states…which in this case the US desperately wants Ukraine to become so that they can introduce NATO troops up to the Federations borders.
And with this past week seeing the brutal murder of an Orthodox priest and nun, this report concludes, these Marine Raider "Jesus Killers" mission to accomplish the destruction of Ukraine through sectarian violence appears to already be underway.
To if the American people are even aware of these neo-Nazi Marine Raider "Jesus Killers" being arrested it is not known…other than to state that this incident shows, one again, why the United States was one of only 3 nations in the world (the other two being Canada and Ukraine) who defeated the United Nations resolution against Nazism and Holocaust denial last November.