Russian Airliner : MOSSAD, the CIA, ISIS or All Three?
Saturday, October 31, 2015 8:46
WHO EXACTLY WAS ON BOARD THAT RUSSIAN AIRLINER & WHAT WAS THER MISSION?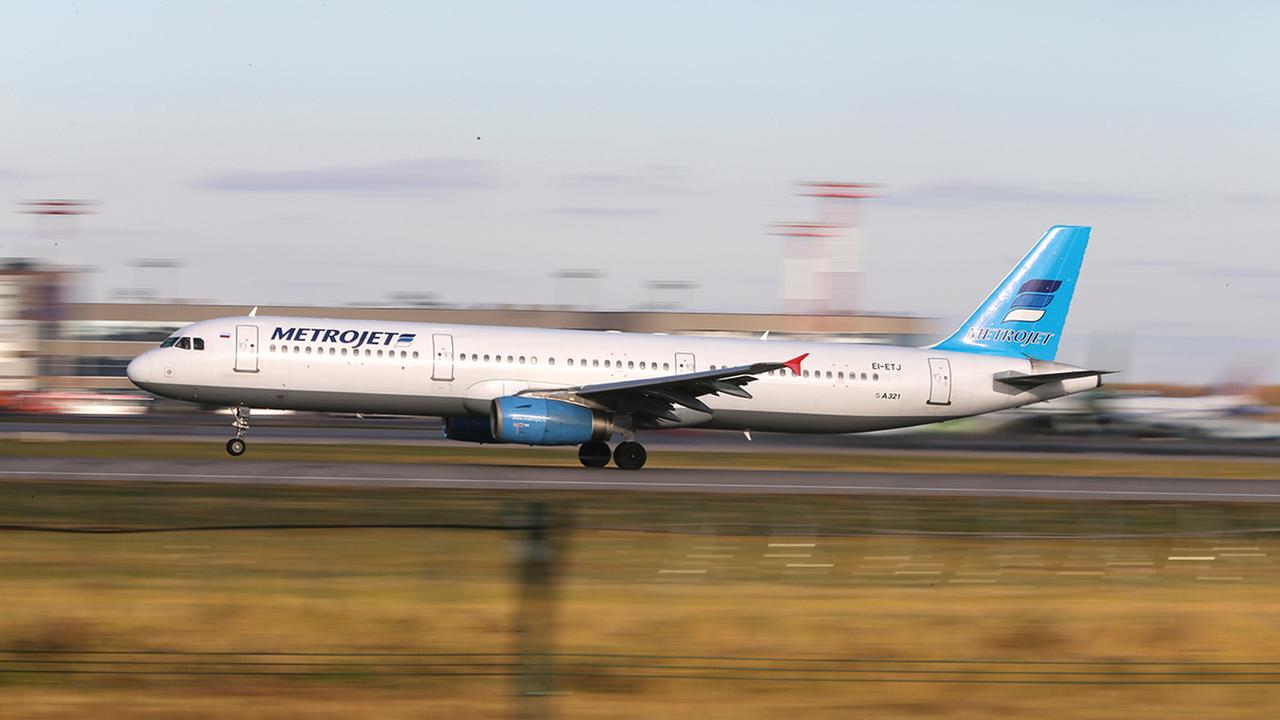 Evidence Points To A Coordinated Conspiracy To Take Down Russian Passenger Plane — Qui Bono?
* * *
Either a bomb was placed on the plane or it was shot down by the ISIS-Israeli-American Axis
Regardless of the likely fictitious ISIS claim of downing the Russian passenger jet ….
The black boxes have not even been recovered yet and already the conspiracy theories are emerging from every quarter regarding the obvious act of terrorism which took down the Russian passenger jet. Each of the conspiracy theories do have one common denominator … or, more accurately, 3 co-conspirators —ISIS, Israel and The USA.
Everything about this aerial takedown smacks of a highly coordinated missile attack or planted bomb plot. All of the circumstantial and anecdotal evidence points directly to one or the other. Even though ISIS has since claimed responsibility for a missile attack, that may be cover for a much more complex Zio-ISIS-American black operation.
Of course, both Israel and the USA do possess advanced electronic warfare weaponry that can take an airliner out of the sky with the push of a button. Those directed energy weapons utilize EMP technology and can be fired from American space-based weapons which are situated on strategically located satellites. This same type of technologically advanced weaponry can also be discharged from specially equipped battleships and ground-based facilities.
The following excerpt from one of the sites pointing to a conspiracy makes some very good points. Particularly in light of the MOSSAD motto – "By way of deception, thou shalt do war" – this blackop has all the typical trademarks of the MOSSAD brand of terrorism. As always, this naked act of terrorism against Russia was likely perpetrated by the MOSSAD with the blessing of the CIA, as well as ISIS playing the willing dupe.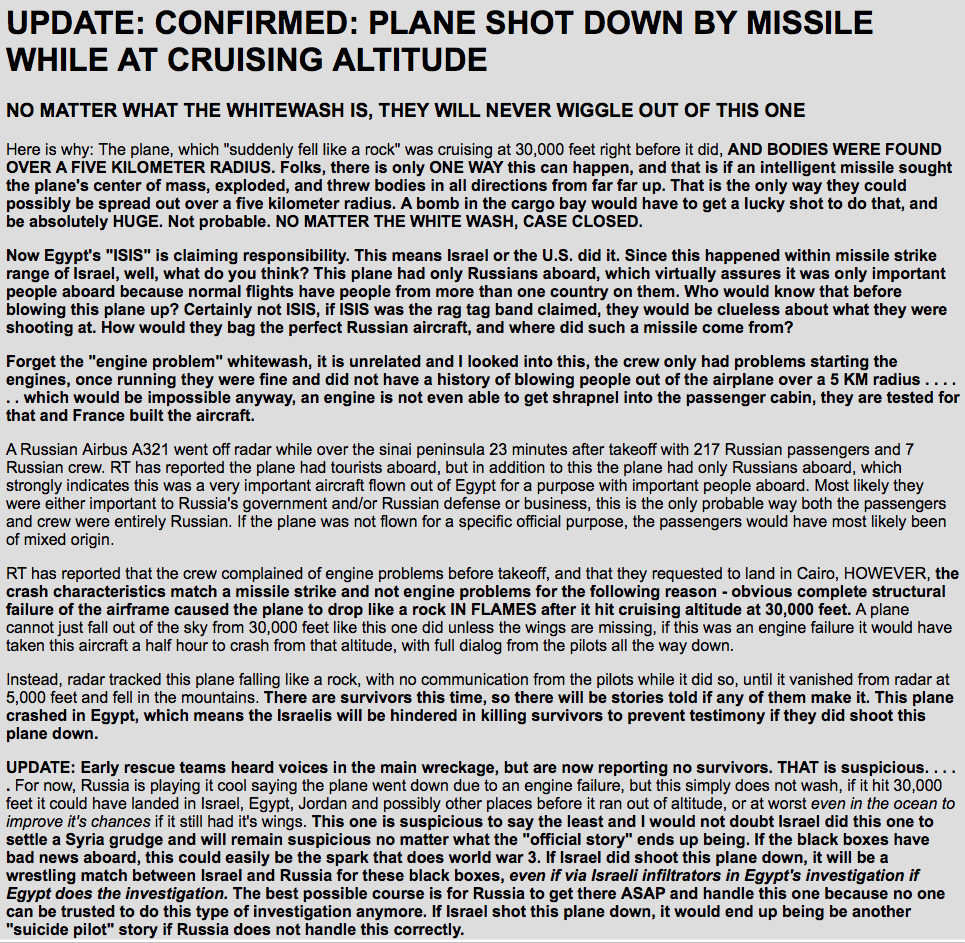 (Click on the above screenshot from 82.221.129.208 to enlarge)
_________________________________________________________________________________________
There's a critical point here. Both the USA and Israel would prefer that the whole world believe this was an ISIS act of terrorism. In this way both nations can attack Russian assets at will — throughout the Mideast region and beyond — and then simply use their MSM to point to the fake perpetrator ISIS. As a quite willing patsy, ISIS will take credit for destroying anything even remotely associated with Russia at this point of their daily annihilation throughout the Levant.
However, all of the technical and logistical requirements of this Sinai false flag operation realistically incriminates both the CIA and MOSSAD, as usual. Only in this way can the Western powers send a serious message to Putin's Russia that they will take advantage of Russian exposure both in the Middle East and throughout the entire world. The Russian Federation already has its work cut out protecting its own borders from ISIS infiltration.
However, the singlest biggest question about this airliner takedown is: Who exactly were those 224 people on board. If they were, in fact, Russian intelligence agents and technicial elites, there will be hell to pay.
________________________________________________________________________
~~~~~~~~~~~~~~~~~~~~~~~~~~~~~~~~~~~~~~~~~~~~~~~~~~~~~~~~~~~~~~~~~~~~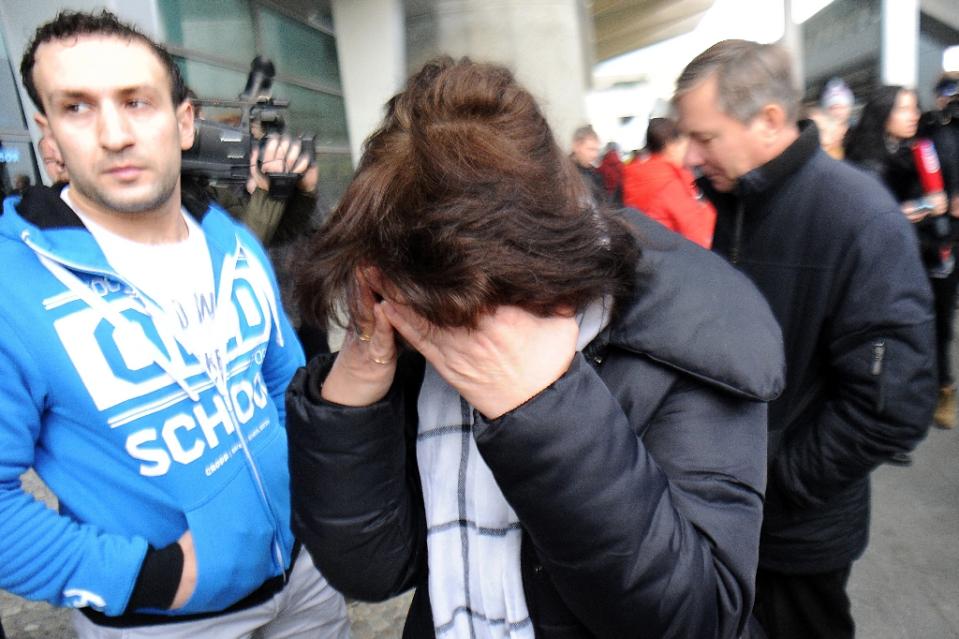 People at St Petersburg's Pulkovo airport wait for news after a plane with 224 people on board crashes in Sinai during a flight to Russia (AFP Photo/Olga Maltseva)
IS claims downing in Sinai of Russian plane carrying 224
By Samer Al-Atrush with Maria Antonova in Moscow
AFP
Cairo (AFP) – A Russian charter plane carrying 224 people crashed in a mountainous part of Egypt's Sinai Peninsula Saturday, killing all on board, Egyptian officials said.
The Islamic State group affiliate in Egypt claimed that it downed the plane, without saying how, but there has been no official word on the cause of the crash.
The plane with 214 Russian and three Ukranian passengers, and seven crew, had taken off from the Red Sea resort of Sharm el-Sheikh in the south Sinai bound for Saint Petersburg. It lost contact with air traffic control 23 minutes later.
Egyptian security and medical officials said there were no survivors, and that the bodies of the passengers and debris were spread out over an area of five square kilometres (two square miles).
The Russian embassy in Cairo said: "Unfortunately, all passengers of Kogalymavia flight 9268 Sharm el-Sheikh-Saint Petersburg have died. We issue condolences to family and friends."
The wreckage was found roughly 100 kilometres (60 miles) south of the North Sinai town of El-Arish, Egyptian officials said.
View gallery
People at St Petersburg's Pulkovo airport wait for news after a plane with 224 people on board c …
The IS affiliate, which is waging a deadly insurgency in the Sinai, claimed that "the soldiers of the caliphate succeeded in bringing down a Russian plane" there.
It said this was in revenge for Russian air strikes against militants in Syria, where IS controls territories that straddle Iraq.
Three military experts said IS in Sinai does not have surface-to-air missiles capable of hitting a plane at high altitude.
But they could not exclude the possibility of a bomb on board or a surface-to-air missile strike if the plane had descended for an emergency landing.
The Kremlin said Russian President Vladimir Putin ordered Moscow's emergency ministry to dispatch rescue teams to Egypt.
The Russian plane crashed in a mountainous
area of Sinai (AFP Photo/Patrick Baz)
Egyptian President Abdel Fattah al-Sisi and his French counterpart Francois Hollande said they had sent their condolences to Moscow.
The Russian emergency ministry published a list of names of the passengers, ranging in age from a 10-month-old girl to a 77-year-old woman.
A senior Egyptian aviation official said the plane was a charter flight operated by a Russian firm, and was flying at an altitude of 30,000 feet when communication was lost.
At Saint Petersburg's Pulkovo airport, anxious family members awaited news of their loved ones.
"I am meeting my parents," said 25-year-old woman, Ella Smirnova, seemingly in shock. "I spoke to them last on the phone when they were already on the plane, and then I heard the news."
The aircraft had just left the Red Sea resort
of Sharm el-Sheikh when it crashed over Sinai
(AFP Photo)
"I will keep hoping until the end that they are alive, but perhaps I will never see them again."
A senior Egyptian air traffic control official said the pilot told him in their last communication that he was having trouble with the radio system.
Russian aviation official Sergei Izvolsky told Interfax news agency that the Airbus 321 operated by Russian carrier Kogalymavia had departed Sharm el-Sheikh at 5:51 am (0351 GMT).
He said the plane did not make contact as expected with air traffic controllers in Cyprus.
- Communication lost -
View gallery
An Egyptian army post in Sinai at the border
with Israel (AFP Photo/Menahem Kahana)
"Communication was lost today with the Airbus 321 of Kogalymavia which was carrying out flight 9268 from Sharm el-Sheikh to Saint Petersburg," Izvolsky told Russian television networks.
"The plane departed Sharm el-Sheikh with 217 passengers and seven crew members. At 7:14 Moscow time the crew was scheduled to make contact with… Larnaca (Cyprus). However, this did not happen and the plane disappeared from the radar screens."
Kogalymavia, which operates under the name Metrojet, says it has two A320 planes and seven A321s, and that it transported 779,626 passengers in the first nine months of 2015, according to the Russian aviation agency Rosaviatsia.
Russia has a dismal air safety record, with charter operators often under pressure to book to capacity on ageing jets in a bid to cut costs.
Kogalymavia is a small regional carrier that flies mostly international charter services.
No representative of the airline could be found at the airport in Saint Petersburg and nobody at the company was answering the phones.
Russia's regional airlines are notorious, and the crash is likely to raise renewed concerns about the safety of air travel in a country where experts have sounded the alarm over the ageing fleet of passenger jets.
The last major airliner crash in Egypt happened in 2004, when a Flash Airlines Boeing 737 plunged into the Red Sea after taking off from Sharm el-Sheikh.
The 148 people on board, most of whom were French, were killed.
Millions of tourists, many of them Russian, visit the resort, one of Egypt's major attractions for holidaymakers looking for pristine beaches and scuba diving.
It and other resorts dotting the Red Sea coast are heavily secured by the military and police, as an Islamist militant insurgency rages in the north of the peninsula, which borders Israel and the Gaza Strip.
Militants in the north who pledged allegiance to the jihadist Islamic State group have killed hundreds of soldiers and policemen since the army ousted Islamist president Mohamed Morsi in 2013.
burs-se/jds/al
http://news.yahoo.com/russian-civilian-plane-crashes-sinai-egypt-pm-080736703.html
~~~~~~~~~~~~~~~~~~~~~~~~~~~~~~~~~~~~~~~~~~~~~~~~~~~~~~~~~~~~~~~~~~~~
Was Russian plane shot down by Isis in Egypt? Conspiracy theories arise after aircraft crashes in Sinai
By Mugdha Variyar
International Business Times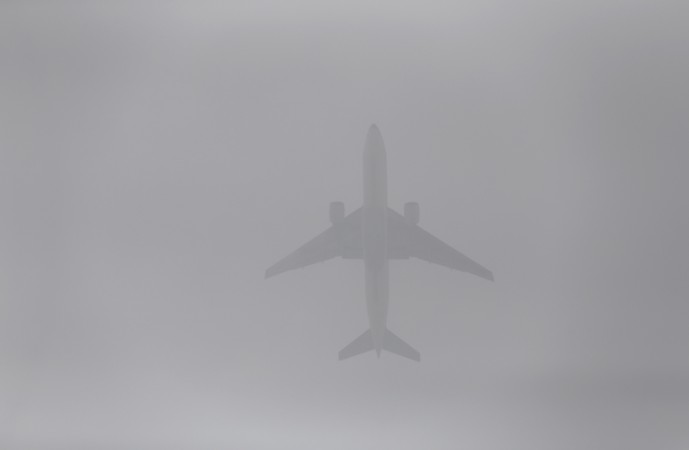 REPRESENTATIONAL IMAGE: Reuters
After confirmation from Egypt that a Russian passenger plane had crashed in Sinai on Saturday, speculations and conspiracy theories were rife whether the plane had been shot down while it flew over the Isis stronghold of Sinai.
The Russian airline Kogalymavia flight was on its way to Russia after taking off from Sharm el-Sheikh resort on the Red Sea and had 224 people, including 17 children, on board when it crashed near Nekhel in the north of Sinai.
Isis has carried out increasing attacks in Sinai on Egypt's security forces and civilians, and has established the group's presence in the region over recent months.
Speculations on Twitter and other social media pointed at a possible Isis reprisal following Russian airstrikes against Islamic state targets in Syria over the past month.
Russia's RIA news agency has reported that the plane developed technical problems and the pilot had sought to make an emergency landing in Cairo.
Egyptian security sources have said that there was no indication that the plane was shot down.
Terrorism researcher Charlie Winter said on his Twitter account that it was unlikely that Isis weapons had the ability or range to down a plane flying at 31,000 feet as the Russian aircraft was.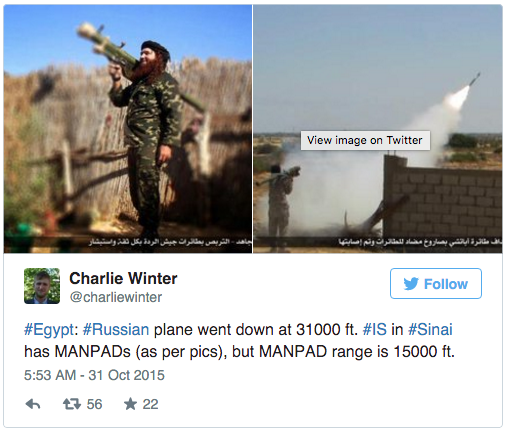 But that has not stopped netizens from speculating about the plane crash, as evident by these Twitter posts -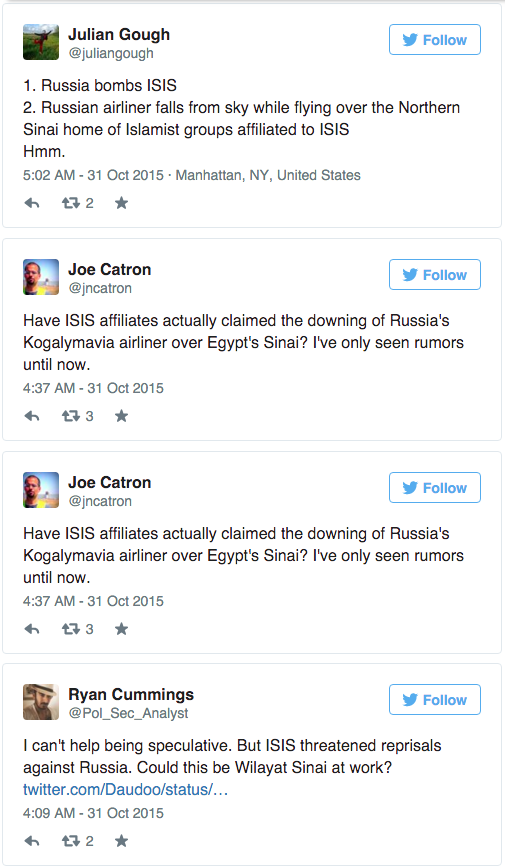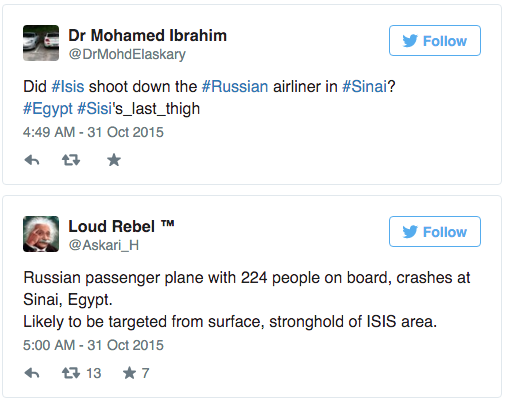 http://www.ibtimes.co.in/was-russian-plane-shot-down-by-isis-egypt-speculations-rife-online-after-aircraft-crashes-sinai-652713
Russian Plane Downed Over Sinai By Act Of Terrorism | The Millennium Report