Russia to increase oil exports to China
31 Mar, 2016 11:14
A Moscow University oil tanker at Kozmino port © Yuri Maltsev / Reuters
China is ready to import 27 million tons of Russian crude this year via the Eastern Siberia-Pacific Ocean (ESPO) pipeline, according to Transneft Vice-President Sergey Andropov. Russia wants to overtake Saudi Arabia to become China's biggest supplier.
Read more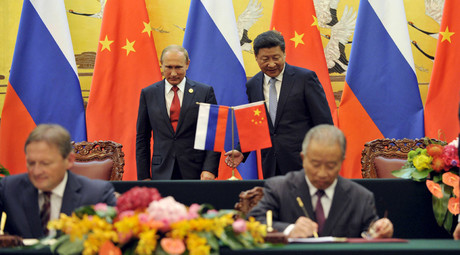 Energy goes east as Russia and China seal multibillion dollar deals in Beijing
"The overall volume of oil supplied to China amounts 27 million tons," said Andropov on the sidelines of the Russia-China Oil and Gas conference in Beijing, adding that 20 million tons would be delivered via the ESPO pipeline and the Russian Far East port of Kozmino. An additional seven million tons will be exported via Kazakhstan.
Transneft, Russia's oil transport monopoly, is investing in the Skovorodino-Mohe pipeline to expand capacity to 30 million tons.
"We plan to invest some 4.8 billion rubles ($70 million) and finish all the work in 2017," said Andropov.
Russia began supplying China with crude through the Skovorodino-Mohe branch of the ESPO pipeline in 2011 after Rosneft, Transneft and China National Petroleum Corporation (CNPC) signed contracts two years earlier.
In 2013 they agreed to increase supplies to 15 million tons per year.
Currently crude supplies using the pipeline are 5 million tons a year, increasing to 15 million tons a year in 2018–2037, with 7.5 million tons to be delivered in 2038.
In 2015 China became Russia's biggest oil customer according to the International Energy Agency (IEA).
Russia has doubled crude exports to China over the past five years. According to China's General Administration of Customs (GAC), Beijing purchased 4.81 million tons of oil from Russia in December 2015, 30 percent more compared to the previous year.
Energy cooperation between the countries has been significantly increased. Two years ago Rosneft and CNPC signed a 25-year oil deal worth $270 billion under which the Russian company is expected to supply 360.3 million tons of crude to China.