China's President Xi steps out with a new military title
Thursday, 21 April, 2016,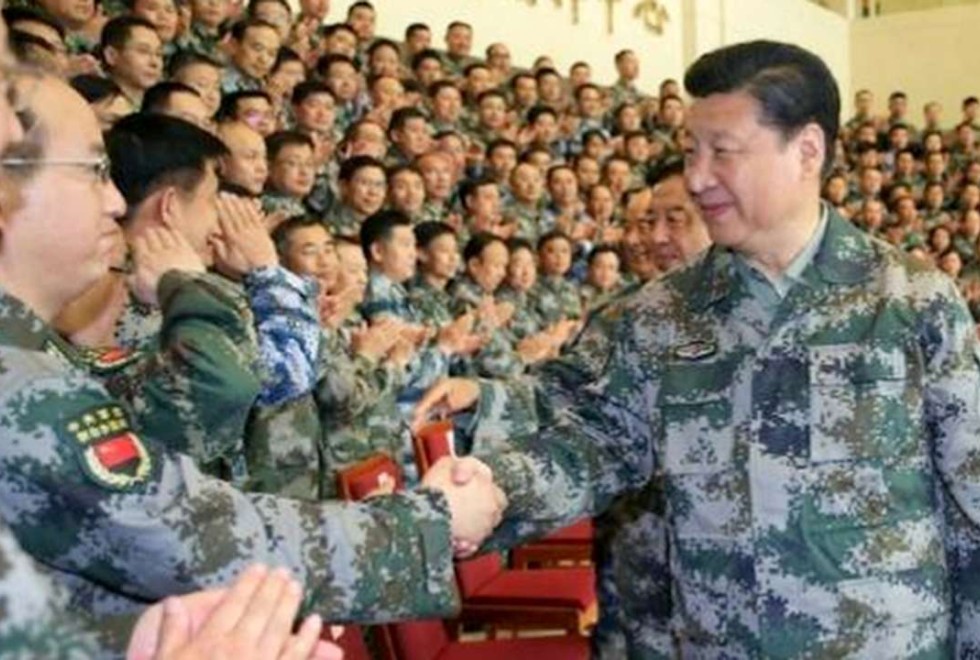 Xi Jinping wears a camouflage uniform at the PLA's new joint operation command. File Photo
President Xi Jinping revealed his new military title as commander-in-chief of the PLA's Joint Battle Command yesterday, as he inspected the command centre wearing a new camouflage uniform.
Analysts said the move showed Xi had built up a level of personal authority over troops on par with late leaders such as Mao Zedong and Deng Xiaoping. Xi said the new command should be "absolutely loyal, resourceful in fighting, efficient in commanding, and courageous and capable of winning wars", China Central Television ­reported.
It was the first time state media disclosed his new title, which he adds to his other three key ones – general seretary of the Communist Party of China, president, and chairman of the Central Military Commission (CMC).
Observers said the post and uniform were aimed at sending a message to the world that he was not only the top administrative leader of the world's biggest army, but also the chief commander of the fighting force.
"Xi's camouflage military suit showed that he is top commander of the PLA's supreme joint battle command body, which was set up to meet today's modern warfare demands, and is capable of commanding land, navy and air forces, as well as other special troops like the Rocket Force and Strategic Support Force," Xu Guangyu, a retired PLA major general said.
"It [was a meeting for battle commanders] as other CMC members and senior officials participating were all wearing the camouflage uniform."
CCTV said commanders from the newly established north, south, east, west and central theatre commands also gave reports about their combat forces to Xi via video links.Can of worms: pictures of elite Chinese female soldiers eating creepy-crawlies in training reignites debate about women's role in military
Xu said the title of commander-in-chief had a different function from his post as CMC ­chairman.
"The CMC is responsible for the PLA's management and defence building, while the joint battle command centre focuses on combat and relevant strategies," he said.
Hong Kong-based military expert Liang Guoliang said Xi's new title was similar to the US president's position as the commander-in-chief of the country's armed forces. "The CMC is a leading organisation, but not a command body in wartime," Liang said.
Mao and Deng had enough personal authority they could order other regional military commanders to follow their orders, he said. However, Xi's two predecessors Jiang Zemin and Hu Jintao ran into problems when dealing with military heavyweights, with Hu being isolated by his two deputies Guo Boxiong and Xu Caihou. Guo is facing trial on corruption charges, while Xu died last year.