How Israel and Turkey Nearly Burned Down the World in 2013
By Gordon Duff, on May 10, 2016
dead in Ghouta, more of the Erdogan/Netanyahu partnership's work
By Gordon Duff, Senior Editor
During 2012 and 2013, Turkish and Israeli groups, aided by rogue CIA and State Department contractors, backed by Intelligence Community Information Technology Enterprise — or ICITE (pronounced "eyesight"), a group totally penetrated and operated by Israeli intelligence, staged gas attacks in Syria killing thousands. Their purpose was to force President Obama to bomb Syria, opening the door for an ISIS drive on Damascus.
You see, ISIS is and always has been run by Israeli, Saudi and Turkish intelligence, aided by rogue contractors from the CIA and State Department and aided by Gulf States special forces trained by Dyncorp and L3 Corporation.
Our scan of today's defense news items revealed an article by "Frank Konkel," really no one at all, perhaps a useful idiot, obviously someone either uninformed or complicit in treason. We feature it below, but how it should really read is how it all happened again under Obama, where Turkish and Israeli intelligence tried to push the US into attacking Syria and probably Russia as well, over Sarin gas attacks that killed 1000 in Ghouta, the year was 2013.
We had seen it all before. Take the clock back to 2001 when it was Israeli and Saudi intelligence, set up in safe houses in Fort Lee, New Jersey, planning the 9/11 attacks. Massive truck bombs were sent out to the George Washington Bridge along with the Holland and Lincoln Tunnels.
First responder communications were blocked by jammers placed on buildings overlooking Manhattan, buildings that housed the leadership of the JDL, a violent radical group that supposedly defends American Jews from misguided bloggers and swastika spray painters from the rival Anti-Defamation League formerly headed by Abe Foxman.
Despite the FBI operation that watched it all, originally headed by FBI Agent John O'Neill, who was killed on 9/11, and later by Agent Mike Dick, who survived a later assassination attempt by the Mossad and by CIA Agent Rolland Carnaby, murdered by the Mossad in 2005 in Houston, Tx and by John Wheeler III, found murdered in a Delaware trash dump…
Veterans Today has told the story of 2013 time and time again, the sarin gas shipped to Turkey and then Syria by Ukrainian operatives, gas produced at a CIA facility in Tbilisi, Georgia, one visited and photographed by VT.
When Press TV's Detroit born Serena Shimm, later murdered by Turkish intelligence, traced the sarin gas to a Hatay, Turkey safe house run by Jared Cohen's Google Idea Groups, a friendly sounding name for what Veterans Today has found to be the power behind ISIS and al Nusra's wars in Iraq and Syria, President Obama and Secretary of State Kerry got wind of the plot against the United States.
They then contacted Russian President Putin and arranged for Syria's President Assad to allow that nations long abandoned chemical warfare program to be carted away, closing the door to further Israeli/Turkish mischief.
We know the truth, we can prove it, every word of it. Yet we keep seeing the same fools and idiots, or are they traitors, you decide, trying to reopen the door, long after the world has discovered it has always been Turkey and ISIS behind the chemical warfare attacks in Syria and Iraq. From "NextGov" or "DefenseOne," two despicable black propaganda outlets that keep Washington misinformed:
HOW THE INTELLIGENCE COMMUNITY'S IT STRATEGY HELPED LINK ASSAD TO 2013 CHEMICAL WEAPONS ATTACK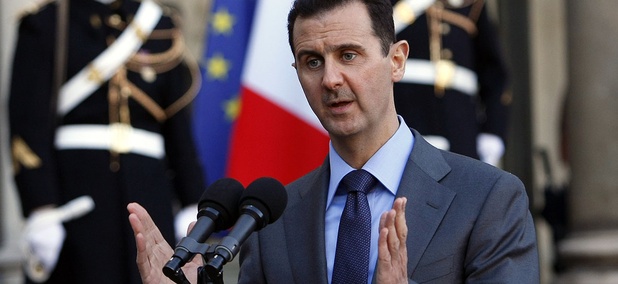 By "Frank Konkel"
In August 2013, a chemical weapons attack in Syria's capital, Damascus, killed some 1,500 civilians and left two sides – the Syrian government and the rebels opposing President Bashar al-Assad's regime – blaming each other for the destruction.
Within just nine days, that confusion ended when the White House released an intelligence assessment unequivocally linking the Syrian government to the attack, highlighting communications and other intercepts by U.S. spy agencies used to make the assessment.
Two weeks later, the United Nations reached the same conclusion in its own report. How was the intelligence community able to reach such a rapid, accurate analysis of such an attack on foreign soil?
The answer, according to Beth Flanagan of the National Geospatial-Intelligence Agency, is integrated intelligence, or the increased ability for the 17 intelligence agencies to develop and share data and work on problems using the same platforms and environments.
Driven by the Intelligence Community Information Technology Enterprise — or ICITE (pronounced "eyesight") — the IC has been shoring up the same kinds of intelligence gaps that preceded the Sept. 11 terrorist attacks.
At its core, ICITE is all about moving IC agencies toward shared services, such as cloud computing and a common desktop environment.
Speaking Tuesday at an event hosted by Defense One and the Intelligence and National Security Alliance, Flanagan, NGA's ICITE mission lead, explained how ICITE allowed intelligence analysts from several IC agencies to rapidly "put the puzzle pieces together."
"That's the power of integrated intelligence," Flanagan said. "The power of ICITE, of integrated intelligence, is reducing the time our analysts hunt and peck for data. It makes it easier for them to interrogate data and serve up conclusions to policy makers."
» Get the best federal technology news and ideas delivered right to your inbox. Sign up here.
Flanagan, a geospatial intelligence analyst by trade, said analysts usually spend "most of our time looking for the needle in the haystack."
Through common services, platforms and collaborative tools ushers in by ICITE, analysts spend less time searching through data repositories and more time actually analyzing information, drawing up conclusions that senior policymakers and senior warfighters can use.
"We're actually making the data and using the power of big data analytics, so the data will actually help find itself," Flanagan said. "We've put in place the principles where it's easier to serve up myriad of conclusions and make it less complex without taking humans out of the loop. (ICITE) makes it easier for them to interrogate data and serve up conclusions to policymakers."
Flanagan's example, she noted, dates back to 2013, just two years into the rollout of ICITE. She wouldn't speculate how rapidly the IC could tackle an event similar to the Syrian chemical strikes today, but she said ICITE's continued development bodes well for more effective intelligence integration in the future.
"The power of what we're moving toward in the future, where data is an IC asset, we're sharing data and using big data analytics, we'll be able to reduce chaos and take advantage of things like the common desktop environment and common tools and platforms," Flanagan said. "It'll be easier for the workforce to do those things