Sudden Death': Pulmonary Embolism with Hillary Clinton's 'Shoddy' Health
'Sudden Death': Dr. Drew Warns of Coming Pulmonary Embolism with Hillary Clinton's 'Shoddy' Health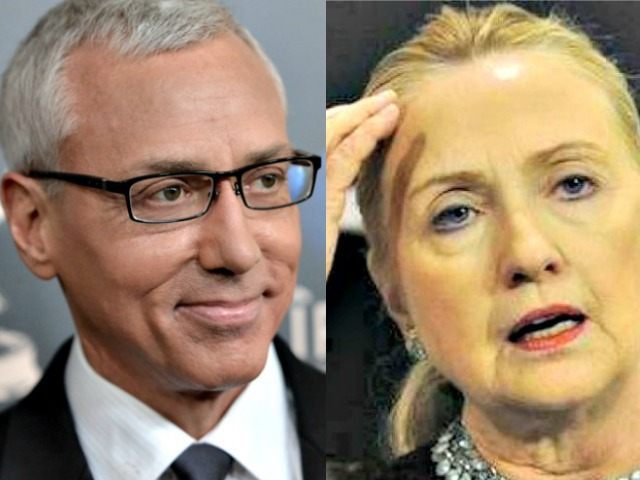 by Alex Swoyer8 Jan 2016Washington, DC
Nationally syndicated radio and HLN television host Dr. Drew Pinsky said he's concerned about the "sophistication" of the healthcare that Democrat frontrunner Hillary Clinton is receiving.
"Why is somebody who's running for the President of the United States getting such shoddy care?" Drew stressed on KABC's Midday Live. "My problem is the quality of the overall care she is getting," he added.
Dr. Drew was reacting to a recent report by Breitbart News that revealed security officials and medical professionals speculate Clinton could be suffering from long-term health issues stemming from a concussion and blood clot, a claim that the Clinton campaign denied – referencing Clinton's health statement produced by her physician and published on her campaign website.
Clinton's doctor, Dr. Lisa Bardack—the chair of internal medicine at the Mount Kisco Medical Group in New York— says Clinton is "healthy" and able to serve as president.
However, Dr. Drew raised concerns over some of the medication Dr. Bardack lists on Clinton's health statement.
"The neurologist you spoke to said you would put somebody on something like Coumadin to dissolve the clot in the skull… you would put somebody on a blood thinner for six months or so after that," Dr. Drew said, reacting to the Breitbart News report. "But in the doctor's comment, or one of the comments, I saw they said they elected to keep her on anticoagulants, which is kind of bizarre." Pinsky went on to say:
But, when you read she had a history of previous deep venous thrombosis in 1998 and 2009 – she's had twice a clot in her leg – these are serious clots that lead to something called pulmonary embolism, which can also cause sudden death. So, she has an underlying recurrent blood clot in her leg, a clot in her transverse sinus…why is she clotting? And then why would you leave her on the oldest and sort of most treacherous anticoagulant? If you're going to leave somebody on an anticoagulant, why the oldest, old fashion anticoagulant – which by the way I'm a fan of Coumadin, I'm a fan of it – but for kind of spurious reasons, wouldn't you think somebody who's a candidate for president [would] have one of the newer anticoagulants that are safer, and the indications for her staying on anticoagulants are kind of spurious…it makes me worry about the sophistication of the healthcare she is getting.
Dr. Drew also pointed out that Clinton's doctor noted she has thyroid issues, and she is using "treatment from the 1950s."
"By the way, thyroid problems can lead to hypercoagulability," he added. "She's not getting the proper treatment for hyper thyroid. And why is somebody who's running for the President of the United States getting such shoddy care?"
"My problem is the overall quality of the overall care she is getting," he stressed.
Dr. Drew noted several of his concerns:
Why is Clinton on Armor Thyroid "and not something that would be a higher standard of care?"
"Why is she clotting repeatedly? Something is wrong with her coagulation system."
"Did she have an echocardiogram" and has she had a "sleep study?"
Dr. Drew, after reviewing Clinton's doctor's health statement, said she had "peculiar medical histories."
"Forget the politics…all aside, my physician senses are tingling and I'm worried about the human being who also happens to be a presidential candidate," he said.
Dr. Drew didn't react to the neurologist's statements in the Breitbart News report, saying, "I intentionally left the concussion syndrome off my list."
He said concussion issues aside, "There's a lot to be done with the rest of her healthcare … to be looked at and to be evaluated."