The Energy Ties That Bring Turkey And Iran Together
The Energy Ties That Bring Turkey And Iran Together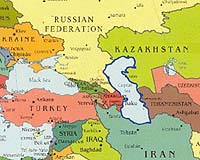 Nov 30, 2007

One casualty of the Bush administration's ambiguous attempts to mollify Turkey over the issue of clamping down on Kurdish insurgents in northern Iraq may well be Washington's larger agenda of isolating Iran. Ankara and Tehran have signed $1.5 billion in agreements providing for the joint construction of three 2,000-megawatt thermal power plants -- two in Iran and one in Turkey, and several hydroelectric plants in Iran with a total 10,000-megawatt capability. The agreements also provide for upgrading electrical power transmission lines between the two countries.
Under terms of the agreement, Ankara will import 3 billion to 6 billion kilowatt hours of electrical energy annually. At present, Iran exports electricity to Turkey through two transmission lines totaling 250 megawatts.
The agreement comes in direct contradiction to Washington's policy of further isolating Iran over its controversial uranium enrichment program as the U.S. government mulls preparing to introduce at the U.N. Security Council a third round of sanctions penalizing Tehran.
Certainly, the Turkish government was not unaware of the Bush administration's wishes; recently U.S. Energy Secretary Samuel Bodman held talks with Turkish Energy Minister Hilmi Guler and expressed Washington's concerns over any possible energy accords with Iran, maintaining that such agreements could only encourage Tehran to pursue its nuclear agenda.
In September, U.S. Undersecretary of State for Economic, Energy and Agricultural Affairs Reuben Jeffery III visited Turkey and told journalists that Washington expects "Turkey and other governments to help effectively implement the spirit of not one but two unanimous U.N. Security Council sanctions" against Iran because of its nuclear activities, adding helpfully that Turkey should look for alternative sources of gas supplies, like Azerbaijan, Turkmenistan and Iraq.
Lest Jeffery's intent be lost, U.S. Undersecretary of State Nicolas Burns visited Ankara in October and brought up the 1999 U.S.-Iran Sanctions Act, under which foreign companies investing more than $20 million in the Iranian hydrocarbon sector risk sanctions, but added diplomatically, "All countries should do their best to sanction Iran on their own, according to their own laws."
During last week's joint news conference in Istanbul with Iranian Energy Minister Parviz Fattah, Guler said, "The signing (of agreements) will continue. Our efforts are continuing."
Fattah told journalists, "Our improving ties may annoy some circles but they will harm no one. They have to accept that."
In a pointed riposte to Washington's inevitably negative reaction to the arrangement, Guler said, "At this point, interests of our country are above everything. These efforts should by no means be considered a reaction, this is an action."
The reality for Turkey is that it currently imports 90 percent of its energy needs at a time of record-high oil prices, and Ankara's interest is to acquire reasonably priced energy imports from whatever source is available. In addressing this economic reality, Turkish Prime Minister Tayyip Erdogan on Sept. 20 said Turkey relied on imports from Iran and Russia and it would be "out of the question to stop imports from either country."
Furthermore, Turkey has firsthand experience of the deleterious effects of U.S.-initiated regional sanctions. Following the 1990 Iraqi invasion of Kuwait, U.N.-imposed sanctions lasted until the outbreak of the U.S.-led war against Iraq in March 2003. Turkey estimated that because of the sanctions, it lost $80 billion in transit revenues from Iraqi oil exports to Ceyhan and other trade with Iraq.
Furthermore, the decision of the Turkish Parliament in March 2003 not to allow the Pentagon to use Turkey as a staging point for the invasion of Iraq soured relations between Washington and Ankara, producing reverberations that continue through to the present.
In 2007 two additional items served further to strain U.S.-Turkish relations. Ill-advised congressional legislation aiming to designate the turbulent events in eastern Anatolia during World War I, which affected the region's Armenian population, as genocide, infuriated both the Turkish government and the Turkish public.
After complaining for months about the rising tempo and intensity of Kurdish rebel attacks from northern Iraq's Kurdistan region into Turkey, Ankara massed nearly 100,000 troops on the border before Washington in a flurry of diplomatic initiatives attempted to avoid a Turkish military incursion by offering to share military intelligence.
On Nov. 20 U.S. Joint Chiefs of Staff Vice Chairman Gen. James Cartwright and the top U.S. commander in Iraq, Gen. David Petraeus, held discussions with Turkish Deputy Chief of General Staff Gen. Ergin Saygun, after which a posting on the Turkish General Staff said, "The issues of Iraq, the ongoing cooperation against the common enemy, the PKK, and comprehensive intelligence sharing were discussed."
PKK refers to the rebel Kurdistan Workers Party.
It is time for the Bush administration to realize, however belatedly, that its inattention to Turkish domestic and foreign policy concerns has produced the growing estrangement between the two nations and that Washington has nothing to offer Ankara in the energy sphere except criticism. The Erdogan government, as a necessity, has accordingly moved national energy concerns ahead of placating U.S. foreign-policy initiatives.
As unsettling as Washington finds the recent Iranian-Turkish energy agreements, worse may follow, as Turkey has reportedly reached a $3 billion agreement with Iran to develop phases 22-24 of the Caspian offshore South Pars project, while potential pipeline projects include 2,200 miles of gas pipelines to transport up to 40 billion cubic meters of gas annually to Europe via Turkey. Turkish and many EU politicians believe that rather then pressuring Iran, perhaps it's time for Washington to reconsider the entire issue of sanctions against Tehran.