Russia, the Black Sea Fleet: in the service Veliky Novgorod, the fifth of Varshavyanka

Date: Tuesday, 1-Nov-2016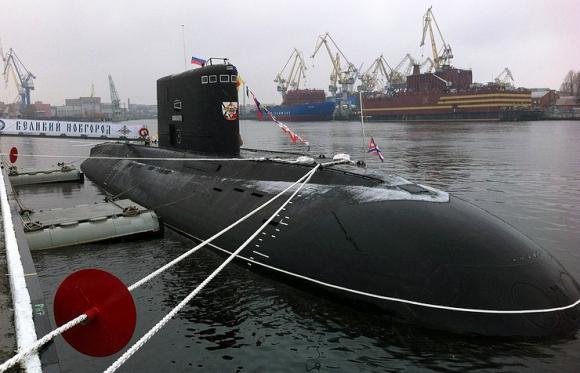 The class submarine Varshavyanka, Veliky Novgorod has officially entered into service in a few days and will join the Black Sea Fleet. The evidence on Kolpino, however, will be completed within two weeks. Its delivery to the active service is scheduled for 25 November.
The diesel-electric submarines Varshavyanka class are a key element of the new Russian naval strategy. Propelled by a diesel-electric engines with very low emission of noise, they can hit targets at long distances without being detected by enemy anti-submarine sensors. the Kilo improved version, the latter at under five knots is invisible to passive sonar, implements advanced stealth technology. Has a displacement of 3,100 tons, a speed of 20 knots, can dive up to 300 meters and carry crews of 52 people. The submarine, armed with 18 torpedoes, mines and eight cruise missiles Kalibr 3M54 (NATO SS-N-27 Sizzler), are designed to carry out anti-submarine missions in the role of hunter killer, in relatively shallow waters.
The Varshavyanka Black Sea
Construction of the first submarine, the Novorossiysk, kicked off in 'August 2010, followed by the Rostov-on-Don in November 2011, from Stary Oskol in August 2012 and the fourth boat, the Krasnodar entered the winds in the pipeline February 2014. the submarine fifth, Veliky Novgorod, was launched on 18 March. The Novorossiysk is in service in the Black Sea from 22 August 2014, while the Rostov-on-Don from 30 December 2014. The Stary Oskol is in service since July 2015. The Krasnodar fourth of Varshavyanka class, is on active duty from 5 November. The Veliky Novgorod was launched on 18 March in St. Petersburg, in the 110th anniversary of the Russian submarine fleet. The submarine sixth, Kolpino, was launched on 31 May. All six submarines will be operating at the Novorossiysk naval base by the end of the year. The 636.3 Project class Varshavyanka for the Black Sea Fleet was completed in six years.
Baptism of fire
Last December the Rostov-on-Don has launched the whole salvo of cruise missiles 3M54 Kalibr embarked against enemy targets near the Syrian city of Raqqa. The Rostov-on-Don is actually entered history of the Russian Navy for being the first submarine to have launched cruise missiles against real enemy targets. The Russian admiralty, last May, has recognized the value of 636.3 Project class Varshavyanka, initially designed to operate only with the Black Sea Fleet of War. The Fleet of War in the North and Baltic will receive the diesel-electric submarines fifth generation. Will be built at the shipyard Admiralty Wharves and delivered at a rate of two per year starting in 2019. The six-class submarines Varshavyanka for the Fleet to the Pacific War will be delivered by 2021.
(Photo: Anna Yudina / Tass)