U.S. Scrambles Four "Doomsday" Planes
U.S. Scrambles Four "Doomsday" Planes after North Korea Announces "Preps for War With U.S. - COMPLETE"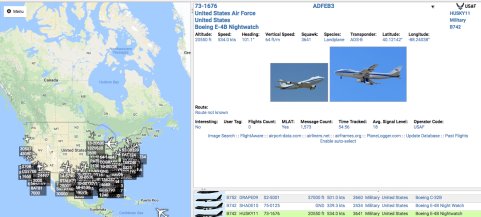 22 September 2017
North Korea is 12.5 hours AHEAD of the US east coast time zone. Early Saturday morning in North Korea, the official state-run news agency KCNA announced "North Korea's preparations for war with the United States are complete." Moments later, the United States SCRAMBLED four "Doomsday" aircraft to provide survivable command centers for the President and Vice-President, and global communications for Strategic Command (STRATCOM) to run the U.S. Military worldwide.
Right now, there are two Boeing E-4B "Nightwatch" aircraft and two more Boeing E-6 "Looking Glass" aircraft airborne. The E-4B are National Command Authority (Pres./V. Pres) and the two E-6 Are STRATCOM Global Nuclear Command Communications aircraft. These are the "DOOMSDAY" planes through which the United States would run our worldwide military operations if nuclear attack was imminent.