US, UK and France Have ATTACKED SYRIA
US, UK and France Have ATTACKED SYRIA
Friday, 13 April 2018 21:31
This was LIVE coverage at the time it began. The attacks are COMPLETED as of 10:30 PM eastern US time.
President Donald Trump has confirmed the US, UK and France are attacking Syria right now.
Trump said he launched missile strikes on Syria in retaliation for an apparent chemical attack by the regime of Bashar al-Assad on a rebel town.
Syria intercepted many of 100+ missiles launched at its civilian, military objects – Russia
Published time: 14 Apr, 2018 05:22 Edited time: 14 Apr, 2018 06:02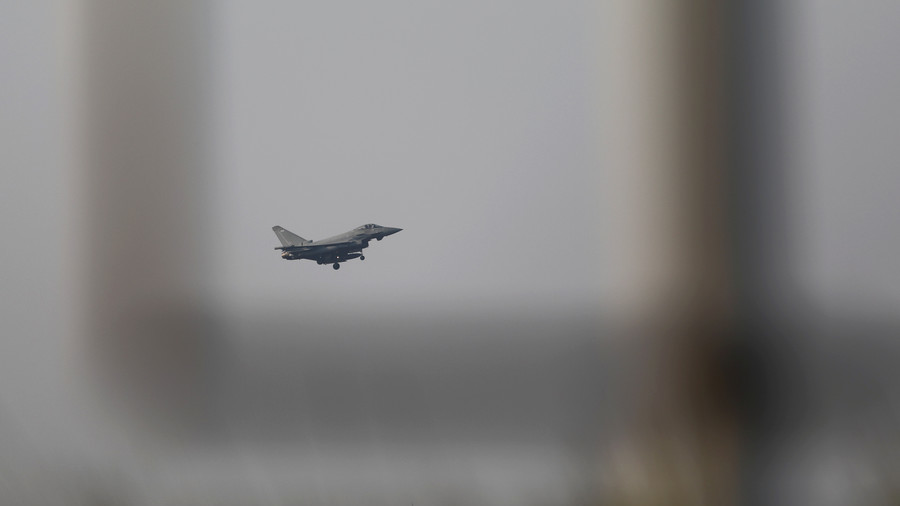 A fighter jet prepares to land at RAF Akrotiri, a military base Britain maintains on Cyprus, April 14, 2018 © Yiannis Kourtoglou / Reuters
The majority of rockets fired in Syria by the UK, US, and France were intercepted by Syrian air defense systems, the Russian Defense Ministry said. Russian air defense units were not involved in repelling the attack.
The warplanes and vessels of the US and its allies launched over 100 cruise missiles and air-surface missiles on Syrian civil and military facilities, the ministry stated.
The strikes were conducted by two US ships stationed in the Red Sea, with tactical air support from the Mediterranean and Rockwell B-1 Lancer bombers from Al-Tanf coalition airbase in Syria's Homs province, according to the statement.
Russia did not deploy its air defense systems located in Syria to intercept the American, British, and French missiles.
Earlier, the ministry issued a statement saying that none of the missiles launched by the US and its allies reached the Russian air defense zones that shield facilities in the port city of Tartus and Khmeimim Air Base.
Responding to the US-led airstrikes on Damascus, UN Secretary-General Antonio Guterres said that all countries are obliged to "act consistently" with the UN Charter. "There's an obligation, particularly when dealing with the matters of peace and security, to act consistently with the Charter of the United Nationals and with international law in general."
Pentagon says Syria strikes are 'one time shot' to send strong message to Assad
Published time: 14 Apr, 2018 02:09 Edited time: 14 Apr, 2018 03:24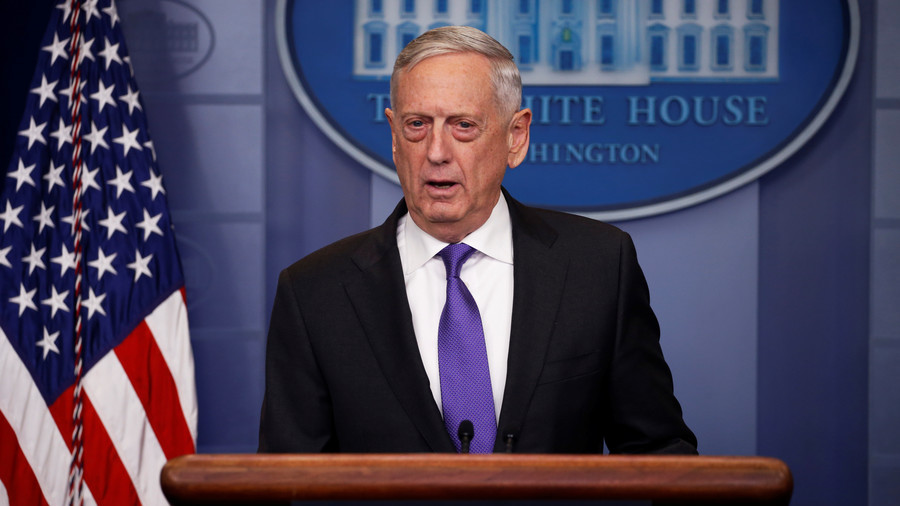 U.S. Defense Secretary James Mattis © Jonathan Ernst / Reuters
US Defense Secretary Jim Mattis described Saturday's strikes on multiple targets in Syria as "harder" than those in 2017, but said that no further launches were planned for the moment.
READ MORE: US, UK & France launch 'precision strikes' in Syria
"Right now this is a one time shot and I believe it sent a very strong message," Mattis said during a press briefing in the Pentagon, adding that there may be further attacks against the government of Bashar Assad "should he decide to use more chemical weapons in the future."
Read more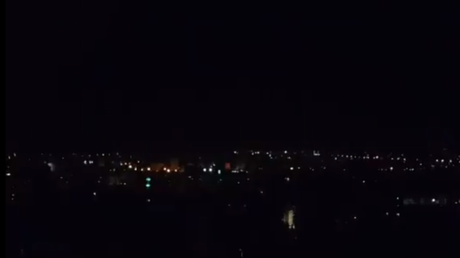 First images of US-led strikes on Damascus emerge (PHOTOS, VIDEOS)
Specifying that more than twice as many weapons were fired as in April 2017, Mattis said that the aerial assault sought to "destroy the Syrian regime's chemical weapons research development and production capabilities."
The targets were described as a scientific research center in Damascus, and a pair of chemical storage facilities in close proximity to each other in Homs, a large city north of the Syrian capital.
"We were very precise and proportionate but at the same time it was a heavy strike," Mattis told reports.
Mattis added that the US, which has used manned aircraft to launch its missiles, had "gone to great lengths to avoid civilian and foreign casualties," while Chairman of the Joint Chiefs, General Joseph Dunford, who also took part in the briefing, said the Pentagon "specifically identified targets" to "mitigate the risk of Russian forces being involved."
Dunford said "normal deconfliction channel was used to deconflict airspace" with Moscow, but that the US did not "coordinate targets" with Moscow.
The general said that US rockets encountered some surface-to-air "activity" but confirmed that no losses were sustained on the attacking side.
Mattis said that he was "confident" that chlorine was deployed during the April 7 incident in Douma, and did not "rule out" that sarin, a nerve agent, had been released. Dunford mentioned that one of the Homs facilities contained precursors and production equipment for sarin, though did not clarify if it had been in active use after Syria destroyed its declared chemical weapons arsenal in 2013.
Syria's surface-to-air missiles counter US-led strikes (VIDEO)
Published time: 14 Apr, 2018 03:59 Edited time: 14 Apr, 2018 04:48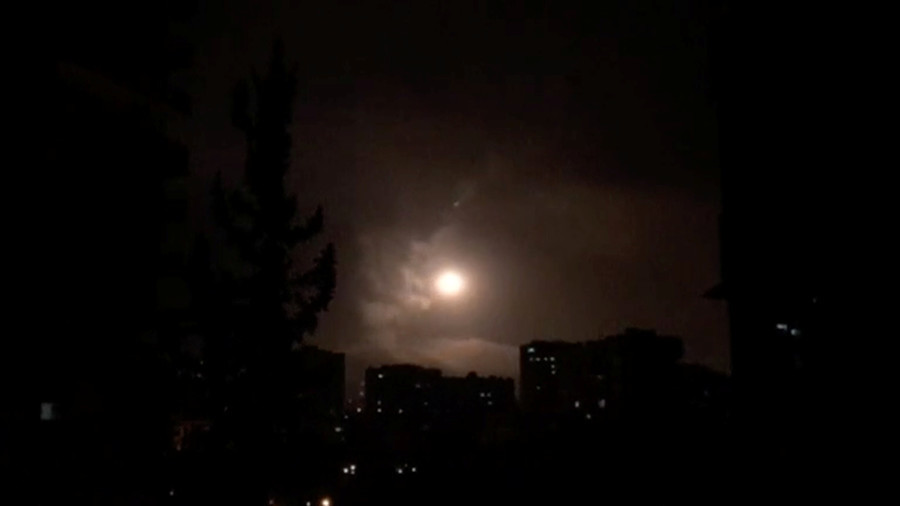 Syria air defences strike back after airstrikes by US, British and French forces in Damascus, Syria in this still image obtained from video dated early April 14, 2018. SYRIA TV via / Reuters
Damascus activated its anti-missile defense to counter missiles that were launched by the US and its allies against Syrian government targets.
Syrian air defenses were scrambled to confront the combined American-French-British aggression that targeted at least three military sites in Syria on Friday. Footage of the Syrian response to the Western missiles has been obtained by RT's Ruptly video agency.
The footage shows Syrian surface-to-air missiles responding to the attack. Smoke can be seen rising from a scientific research facility in Barzeh, which the coalition claims was targeted for its alleged involvement in the production of chemical and biological weapons.
According to reports, citing Syrian government sources, some 30 missiles were launched by the US and its European partners. The Syrian air defenses managed to intercept roughly a third of them.
Friday's strikes saw over 100 missiles launched at Syria, US Defense Secretary James Mattis told reporters. It remains unclear which weapons were used, but the US deployed 59 Tomahawk missiles against Shayrat air base in Syria last year.
"We used a little over double the number of weapons this year than we used last year," Mattis said on Friday. "We were very precise and proportionate, but at the same time it was a heavy strike."
US, UK & France launch 'precision strikes' in Syria
Published time: 14 Apr, 2018 01:02 Edited time: 14 Apr, 2018 03:56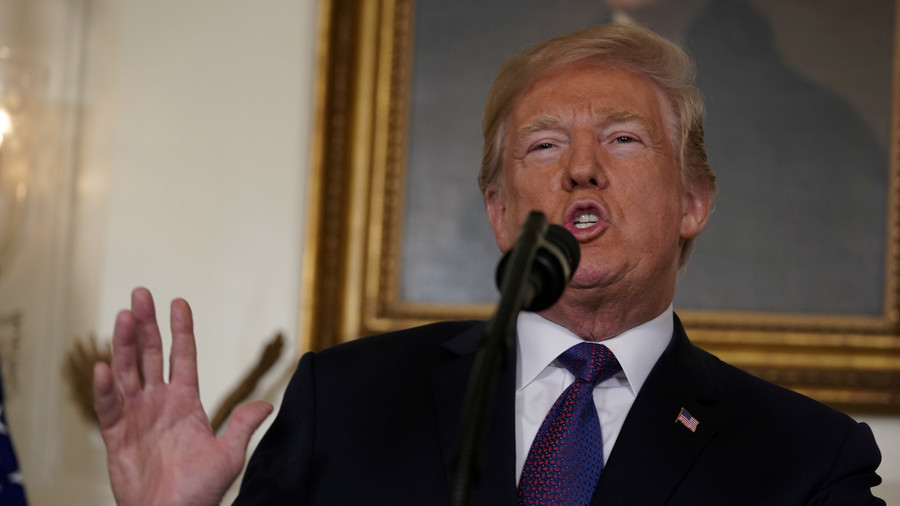 U.S. President Donald Trump makes a statement about Syria at the White House in Washington, U.S., April 13, 2018. © Yuri Gripas / Reuters
US President Donald Trump has approved military strikes in Syria in retaliation for the alleged chemical attack by the Assad government in Douma, near Damascus, last week. The UK and France joined the operation.
"A short time ago, I ordered the United States Armed Forces to launch precision strikes on targets associated with the chemical weapons capabilities of Syrian dictator Bashar al-Assad," Trump said in a televised address from the White House. He added that a combined military operation by the US, the UK and France is already underway in Syria.
READ MORE: Explosions heard in east Damascus after Trump announces Syria strikes – witnesses
The US-led intervention in Syria comes just hours before the UN's Organization for the Prohibition of Chemical Weapons (OPCW) experts were scheduled to visit the Damascus suburb of Douma on Saturday to determine whether chemical weapons had been used there last we.
Shortly after Trump's announcement, a statement from UK Prime Minister Theresa May said she had authorized British forces to conduct "coordinated and targeted strikes to degrade the Syrian regime's chemical weapons capability."
French President Emmanuel Macron confirmed that he ordered French forces to carry out a military action against Syria in coalition with the US and the UK. "The facts and the responsibility of the Syrian regime are beyond doubt," he said in a statement issued by his office, accusing Damascus of crossing "a red line" set by France in May of last year.
Macron said that France's response was "limited" and solely aimed at "the capabilities of the Syrian regime for the production and use of chemical weapons."
Read more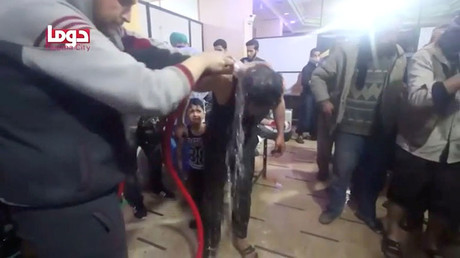 Syria 'chemical attack' staged to provoke US airstrike, London pushed perpetrators – Russian MoD
According to Chairman of the US Joint Chiefs of Staff Joseph Dunford, the US did not notify Russian forces in Syria ahead of the strikes. "We did not do any coordination with the Russians on the strikes, nor did we pre-notify them." The Pentagon said the strikes were a "one time shot" to send a strong message to Syrian President Bashar Assad.
The combined decision by the US and its allies to strike Syria comes just after Russian defense ministry spokesman Major-General Igor Konashenkov presented evidence claiming that last Saturday's alleged chemical attack in Douma was orchestrated. The general also noted that London was "directly involved in the provocation."
The UK defense ministry stated that the strike was executed by four Royal Air Force Tornado GR4s, that launched Storm Shadow missiles at what the UK military claims was a former missile base, some 15 miles west of Homs. The ministry claimed that the Syrian government keeps a stockpile of chemical weapons precursors at the site, thus violating the Chemical Weapons Convention, of which it is a party.
Trump had a special message for Russia and Iran, who he said were "most responsible for supporting, equipping and financing" the Syrian government.
"What kind of a nation wants to be associated with the mass murderer of innocent men, women and children? The nations of the world can be judged by the friends they keep. No nation can succeed, in the long run, by promoting rogue states, brutal tyrants, and murderous dictators," Trump said.
He also blamed "Russia's failure" to keep the 2013 promise that Syria would get rid of its chemical weapons, which was negotiated in good faith with the US. Syria's compliance with the promise was certified by the Organization for the Prohibition of Chemical Weapons (OPCW) in 2014. The only remaining chemical weapons caches in Syria were in territories held by the Western-backed militants, such as Jaysh al-Islam (Army of Islam), who controlled Douma until their surrender on Monday.
Weeks ago, Russia warned that the militants in the east Ghouta enclave might stage a chemical weapons attack to win over Western public opinion. The Russian Foreign Ministry called the reports of Saturday's chemical attack "fake news," while the Russian military investigating the area found no traces of chlorine or nerve agents, any eyewitnesses who could confirm their use or anyone who might have been affected.
An OPCW investigative mission was supposed to arrive in Douma on Saturday. It is unclear what will happen to the probe, in light of the US, UK and French bombing.