The War- Updates from Turner
Because of lack of other information till that moment we give some from Hal Turner, although his sources are questioned . Nevertheless this is also some kind of...
Wednesday, 09 May 2018 11:01 Hits: 94315
UPDATE 1:02 AM EDT THURSDAY 10 MAY --

REPORTS

OF AT LEAST TWO ISRAELI WAR PLANES SHOT DOWN OVER SYRIA (See Bottom Updates)
At least TWO

Russian

Military Members KILLED by Israeli air strikes in Syria! One Spetznaz, and one regular Russian Army. Israel has drawn first-blood from Russia. 6:45 PM EDT
Israeli Prime Minister Benjamin Netanyahu is meeting with Russian President Vladimir Putin in Moscow today and the stakes are VERY high. Neanyahu is telling Putin that Israel knows Iranian assets in Syria are planning "massive, destructive attacks upon Israel" against which the Israelis need to act NOW in order to prevent. Netanyahu is also telling Putin that Israel INTENDS to launch a MASSIVE Pre-Emptive attack and that Russia needs to stand-down WHEN this takes place, else there be war.
Israeli Intelligence Minister Israel Katz told yNet news that his nation has "direct confirmation of Iran intent to attack" and described yesterday's military strikes as Israel stopping them (from following through). He went on to say "only our attacks today will prevent war tomorrow."
The stakes are terribly high and the decisions made today may affect the entire world within hours. If Putin relents and gives Israel "the Golden Ticket" to attack, the Persians and the Arabs will view it as Russia "selling-out" to Israel. If Russia refuses to permit thse massive attacks, then Israel, the US and the West will have war on their hands.
The stakes are VERY high right now. The decisions made today, WILL affect the entire world within hours.
The body language is already showing the level of tension which exists. When Putin greeted Netanyahu outside the Kremlin, there was the obligatory hand shake, but when the two men turned to walk inside, the two men did not casually speak with each other as is customary and normal. Moreover, Putin walked a step ahead of Netanyahu.
Then Putin took Netanyahu to . . . . a MILITARY PARADE showing off the latest Russian hardware. In a speech at that parade, Putin reminded Netanyahu of the millions that died in Russia because of Jewish Communism and its brutal murder starting around World War 2 and lasting 70+ years. (Editor's Note: You can bet Netanyahu was wondering if he was even going to get out of Russia alive.)
At the parade -- in public -- Putin again "dissed" Netanyahu by walking a couple steps ahead of him as they were leaving the parade ground. The message sent by Putin to Netanyahu was clear: "Walk behind me, bitch."
(Editor's Note 2): These may seem trivial observations. But the language of Diplomacy and Statesmanship is EXTREMELY nuanced. EVERY detail matters. The signs coming out of Moscow today do not bode well for Israel or any of us.)
This is a developing story. Updates will appear below. Please check back.
UPDATE 11:30 AM EDT --
INTEL: There are now concerns that Iran may exploit Netanyahu's trip to Moscow, to launch an attack while he is outside of Israel. MORE: If There is a Joint Statement by Putin and Netanyahu after today's meeting, that's a good sign. If Netanyahu simply departs, that's the worst sign possible. Watch very closely . . . .
*** BULLETIN ***
11:50 AM EDT --
Netanyahu has departed the Meeting with Putin and upon that departure, Putin ORDERED an EMERGENCY RUSSIAN SECURITY COUNCIL MEETING to discuss Israeli Military Actions. BAD BAD BAD DEVELOPMENT
UPDATE 12:52 PM EDT --
Israel has begun mobilizing heavy armor in the Golan Heights. These are NOT the type of things one sees to defend against missile attacks from Iranian missiles in Syria; they're the type of things one sees prior to an INVASION.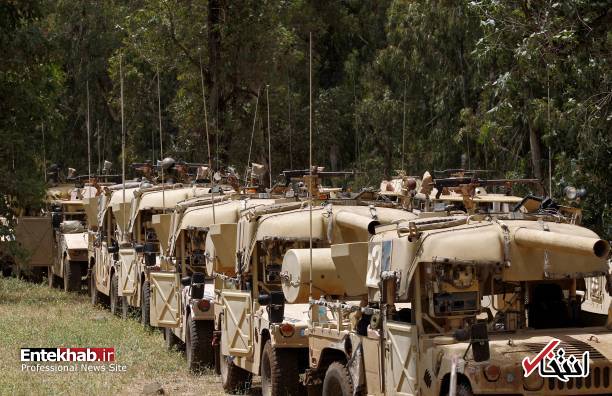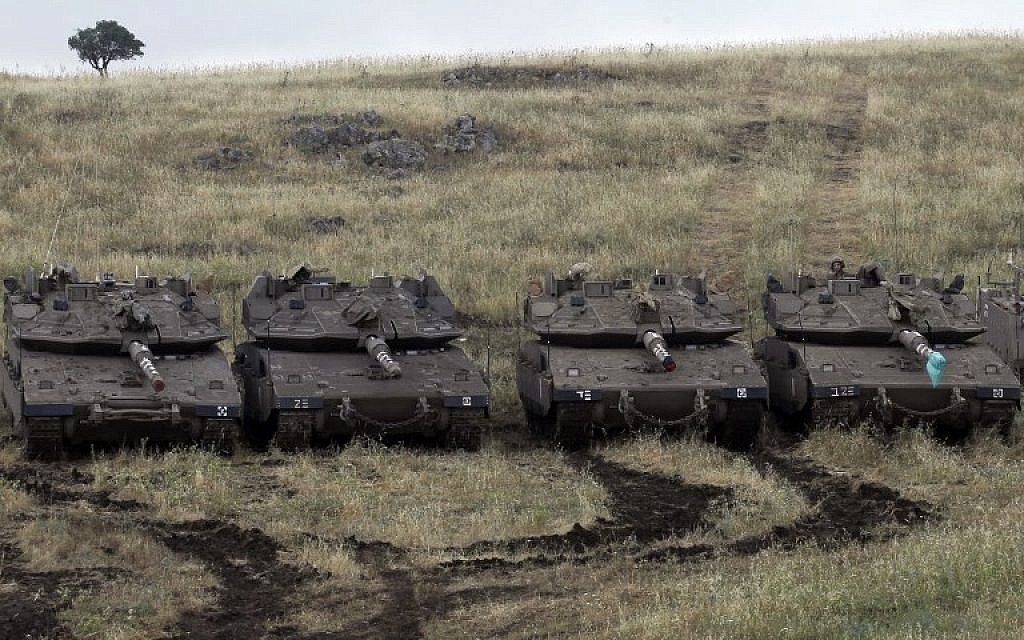 EDITOR'S NOTE: THE PAST FEW DAYS HAVE BEEN VERY BIG NEWS DAYS WITH THOUSANDS OF YOU COMING TO THIS SITE TO GET THE LATEST NEWS. Most folks are aware that cloud-based web sites like this one, which feed from a main server to 19 separate data centers around the world, get BILLED each time a reader gets a page from the site; it's called "bandwidth" or "data transfer." You read, I get billed. So if you enjoy this type of reporting, cutting-edge information that the mass-media simply does not cover, PLEASE take just a moment and make a small donation of a few bucks. Your donation not only helps pay for what you read, it helps sustain this endeavor for the future. To make a ONE-OFF DONATION, click HERE. To subscribe and help with $1 a week billed Quarterly ($13) click HERE. If that's too big a bite for your budget, you can help with a $5 a month Subscription. Every little bit helps, so PLEASE make a donation. This web site exists thanks to the generosity and dedication of readers like YOU Thanks! (Updates will continue below . . . .)
UPDATE 2:30 PM EDT --
Saudi Foreign Minister says now that Iran nuclear deal is dead, "Saudi Arabia will obtain nuclear weapons if Iran develops atomic weapons of their own."
UPDATE 2:42 PM EDT --
Radar confirms Israeli war planes over Lebanon again right now. UNCONFIRMED REPORTS of new Israeli attacks in progress into Syria.
*** BULLETIN ***
UPDATE 2:46 PM EDT --
Syrian Air Defenses have just "lit-up" - tracking inbound missile(s) over Quineitra Province (Golan Heights) inbound from Israel.
UPDATE 3:32 PM EDT --
Royal JORDANIAN Air Force (RJAF) now taking-off toward Syria Eastern Border!
UPDATE 2:57 PM EDT --
Syrian air defenses are said to be intercepting inbound missiles near Damascus right now.
UPDATE 3:10 PM EDT --
Possible Decoy missile intercepted east of Damascus; possible harassing action to try to determine location of Anti-Aircraft Defenses. NO TARGETS HIT.
UPDATE 3:27 PM EDT --
Russian Air Force taking flight from Latakia; heading along Syria Coast toward Lebanon. Israelis being TOLD via air-to-air radio to immediately halt their attacks against Syria.
UPDATE 3:36 PM EDT --
As Russian jets took off . . . . Royal JORDANIAN Air Force (RJAF) Fighters began scrambling toward Syria's eastern Border! ! ! !
UPDATE 4:04 PM EDT --
The only remaining Jordanian Air Force plane in the air right now is a refueling tanker. Altitude 8,000 feet, speed 130 knots. Circular patrol pattern. So clearly SOMETHING is pending, they don't just put refueling tankers up in a holding pattern unless they know planes are going to need fuel.
UPDATE 4:28 PM EDT --
Netanyahu's aircraft has safely landed back in Israel after his trip to Moscow.
UPDATE 4:35 PM EDT --
Word directly from Lebanon now: For the first time, Russian Air Force planes entered Lebanese Air Space and CHASED-OFF the Israelis!
UPDATE 4:50 PM EDT --
"CODE RED" SIRENS SOUNDING THROUGHOUT NORTHERN ISRAEL.
MORE: ISRAELI TANKS OPENING FIRE INTO CIVILIAN AREAS OF OCCUPIED GOLAN HEIGHTS! ALLEGEDLY ATTACKING "PRO-ASSAD . . . "MILITANTS""IN THE TOWN OF BAATH, IN QUNEITRA PROVINCE!!!!!!
UPDATE 5:41 PM EDT --
Israel launching multiple "TAMAZ" missiles directly at Syrian Army in the area around Ba'Ath City. This is a DIRECT ACT OF WAR BY ISRAEL AGAINST THE LAWFUL GOVERNMENT OF SYRIA. No more pretense of "Fighting Terrorists" or "defending Israel from Iranian militias in Syria." This is open aggression.
UPDATE 5:48 PM EDT --
Israeli ARTILLERY has now opened fire upon both the Syrian Army and Iranian positions INSIDE SYRIA. Heavy shelling ongoing.
MORE: Syrian State TV is now confirming and reporting numerous Israeli shells from tanks and artillery are targeting positions of the Syrian Army in southern Syria. Open warfare.
UPDATE 6:03 PM EDT --
The Syrian Arab Army is now retaliating with artillery shelling of its own against an Israeli Defense Force outpost on Al Shaykh mountain, northeast of the Golan Heights. VERY HEAVY SHELLING.
UPDATE 6:11 PM EDT --
Multiple explosions confirmed at Israeli Defense Force positions throughout the Golan Heights. Active Combat in progress.
UPDATE 6:18 PM EDT --
Israeli Defense Force now commencing shelling of Syrian town of Hadar.
ESCALATING VERY QUICKLY. AIR DEFENSES ON BOTH SIDES ARE NOW LOCKING-ON TO TARGETS ON BOTH SIDES OF THE SYRIA-ISRAEL BORDER.
*** BULLETIN ***
UPDATE 6:21 PM EDT --
Syrian Army now re-targeting IDF Israeli positions in the Golan Heights with heavy Multiple Launch Rocket Systems (MLRS)
A multiple launch rocket system (MLRS) is a type of rocket artillery system. Rockets have different capabilities than artillery, like longer range, and different payloads, typically considerably larger warheads than a similarly sized artillery platform, or multiple warheads. Unguided rocket artillery is notoriously inaccurate and slow to reload, compared to artillery. To overcome this, rockets are combined in systems that can launch multiple rockets simultaneously. Modern rockets can use GPS or inertial guidance, to combine the advantages of rockets with high accuracy.
UPDATE 6:22 PM EDT --
Israeli tank shelling destroyed a base for Syrian anti-aircraft guns (23 mm range) and the main target of Israeli shelling is the Syrian regime anti-aircraft system deployed on the western side of Madinat Al-Baath in Quneitera. The Israelis want to get rid of Syria's ability to defend their own county's air space.
UPDATE 6: 32 M EDT --
Israeli war planes are now bombing the Syrian army and elements of the Lebanese Hezbollah militia on the outskirts of Hadar and Khan according to sources there on the ground witnessing it taking place right now! (I have a SATCOM link with them)
UPDATE 6:35 PM EDT --
Syrian Army confirms four Israeli Defense Force positions destroyed and multiple IDF vehicles hit by Syrian artillery in the Golan Heights.
UPDATE 6:36 PM EDT --
ISRAELI HOME FRONT COMMAND IS TELLING ISRAELI CITIZENS IN THE NORTH OF THAT COUNTRY TO ENTER THEIR BOMB SHELTERS AND REMAIN THERE.
INTEL: US INTELLIGENCE OPERATIVES ON THE GROUND IN ISRAEL AND IN SYRIA ARE TELLING ME DIRECTLY THE CLASHES BETWEEN SYRIANS AND ISRAELIS ARE "FIERCE" AND ESCALATING.
UPDATE 6:39 PM EDT --
Israeli Air Force firing at Damascus again from the Mediterranean Sea off the Coast of Lebanon. Being targeted by Syrian Anti-Aircraft Missiles ! ! !
WTF?
Isral fired multiple tank shells and dropped bombs from planes on targets in Hadar, Syria and when the people they were attacking (Iranians) FIRED BACK, the Israelis are telling their people "We've been attacked by Iranian forces." They have now updated this position to "We consider this an act of war against Israel by Iran and Syria."
UPDATE 7:15 PM EDT --
CINC NORAD has declared DefCon 4 for US Forces Worldwide, exception of CENTCOM, to DefCon 3
UPDATE 7:15 PM EDT --
IDF positions on Mount Hermon are now coming under fire from Syrian Forces who they attacked earlier.
Ten separate IDF positions/Bases are now engaged in combat with Syria. Israel attacked first.
7:30 PM EDT -- I have to depart for the radio studio in New York City right now in order to broadcast my talk-radio show tonight from 9-11 eastern US time. A volunteer news staffer is going to takeover these updates in my absence. During tonight's radio show, which begins airing LIVE about 90 minutes from the time of this posting, the outbreak of these hostilities will be the main topic. FULL UPDATES will be broadcast live as we get the info.
UPDATE 7:50 PM EDT (STAFF) -
Syria scored direct hits on Israel early warning intelligence points around the entire occupied Golan Heights.
Syrian air defenses are firing at rockets over the city of Damascus as Israel continues its attacks.
Until THIS moment, no major US mass-media outlet has mentioned even one aspect of today's developments, but CNN International just did a 30 second piece telling their viewers "Iran rockets were fired at Israel today from a base in Syria" and that they are keeping an eye on it. Apparently the truth and the facts have no place at CNN.
UPDATE 7:56 PM EDT (STAFF)
We just received detailed information from one of Mr. Turner's former Intelligence Community colleagues and we're not certain how much of this to report. (I've never gotten a call like this before.) According to this Intelligence Operative, the Israel Air Force is preparing a full air assault to attack and destroy all Air Defense systems inside the entire country of Syria within the next few hours. These attacks will also target Russian air defenses in and around the Russian navy base at Tartus and the Russian air base at Latakia. Israel wants Syria and Russia totally defenseless.
An Israeli tank has been destroyed on the outskirts of a place called Shaaba Farms in Southern Lebanon.
UPDATE 8:13 PM (STAFF)
Syrian anti-aircraft defenses are engaging several fresh barrages of Israeli missiles over Damascus. Local citizens are uploading video to social media showing the missiles flying back and forth over their apartment buildings and homes. Terrifying.
REPORTS OF HEAVY ISRAELI AIR STRIKES AGAINST SYRIA'S 10TH BRIGADE IN QATNA, OUTSIDE OF DAMASCUS AFTER ISRAEL ACCUSED IRANIAN QUDS FORCE IN THAT AREA OF DARING TO FIRE 20 ROCKETS BACK AFTER ISRAELI TANKS FIRED UPON THEM!
UPDATE 8:20 PM (STAFF) --
BRITISH TYPHOON FIGHTER JETS TAKING OFF FROM CYPRUS.
UPDATE 8:32 (STAFF)
Warning Sirens sounding in Haifa, Israel.
The Israeli government has invoked Military Media Censorship upon all Israeli media outlets. They are forbidden to report on the ongoing clashes and cannot report on the severe damage done to Israeli outposts and military infrastructure in the Golan Heights in response to the Israeli attacks against Syria.
UPDATE 8:41 PM (STAFF)
Reporters in the Golan Heights say there seems to be a pause of some type in explosions and overhead missiles. Sudden quiet.
UPDATE 8:54 PM (STAFF) Two PATRIOT missiles fired from Safed, Israel.
LIVE UPDATES ARE NOW CEASING FOR TWO HOURS DURING WHICH THE HAL TURNER RADIO SHOW WILL AIR, COVERING DEVELOPMENTS LIVE.
RESUMING LIVE UPDATES BELOW AS OF 11:50 PM EDT . . . .
The mass-media is absolutely failing to cover this story, and when any of them DO, the only thing being reported is that "Iran launches 20 missiles into Israel from Syria." There is almost TOTAL omission of the fact that Israel started this by firing tank and artillery shells at the Syrian Army and the Iranians inside Syria. When the Iranians fired BACK, Israel is calling THAT "an attack."
As of 11:55 PM, 85,771 people have viewed this story and I get billed every time someone looks; it's called "Data Transfer / Bandwidth" charges. Out of those 87,771 visitors, about 60 have donated to help with the expense. PLEASE help so I can continue to undertake this cutting-edge coverage and supply the FACTS the mass-media is utterly failing to report. To make a ONE-OFF DONATION, click HERE. To subscribe and help with $1 a week billed Quarterly ($13) click HERE. If that's too big a bite for your budget, you can help with a $5 a month Subscription. Every little bit helps, so PLEASE make a donation. This web site exists thanks to the generosity and dedication of readers like YOU Thanks! (Updates will continue below . . . .)
Israeli Cabinet in Emergency Meeting DECLARATION OF WAR "LIKELY"
Syrian Army 4th Division Base struck by multiple Israeli missiles.
Israel says they are primarily striking at IRANIAN targets inside Syria but are engaging all "hostiles."
UNCONFIRMED -- UNCONFIRMED reports Syrians may have shot down an Israeli war plane. UNCONFIRMED
SEVERAL "DIVISION 4" POSITIONS DESTROYED TONIGHT. DIVISION 4 NEAR DAMASCUS IS ONE OF THE STRONGEST OF THE SYRIAN ARAB ARMY.
RUSSIAN JETS TAKEOFF FROM HMEYMIM AIR FORCE BASE TO CONFRONT ISRAELI JETS OVER LEBANON!
Electricity completely out in all of Damascus. Population fleeing in panic.
Wave after Wave of Israeli missiles seem to be overwhelming Syrian defenses. Several Syrian Air Defense sites destroyed and several others now with destroyed RADAR.
UPDATE 1:02 AM EDT --
SECOND REPORT OF "MULTIPLE" ISRAELI WAR PLANES SHOT DOWN -- AT LEAST TWO ACCORDING TO REPORTS.
Hezbollah in Lebanon says it is deciding whether or not to attack Israel from Lebanon.
UPDATE 1:10 AM EDT THURSDAY 10 MAY 2018 --
Israeli military briefing says 35+ sites inside Syria attacked including Iranian sites and Syrian anti-aircraft batteries. "We warned the Syrian Army to stay out of this."
End Live Updating. Additional info to appear in NEW posts on main news page.
1:15 AM EDT.