FIFA 2018 World Cup opening ceremony underway in Moscow

14 Jun, 2018 14:32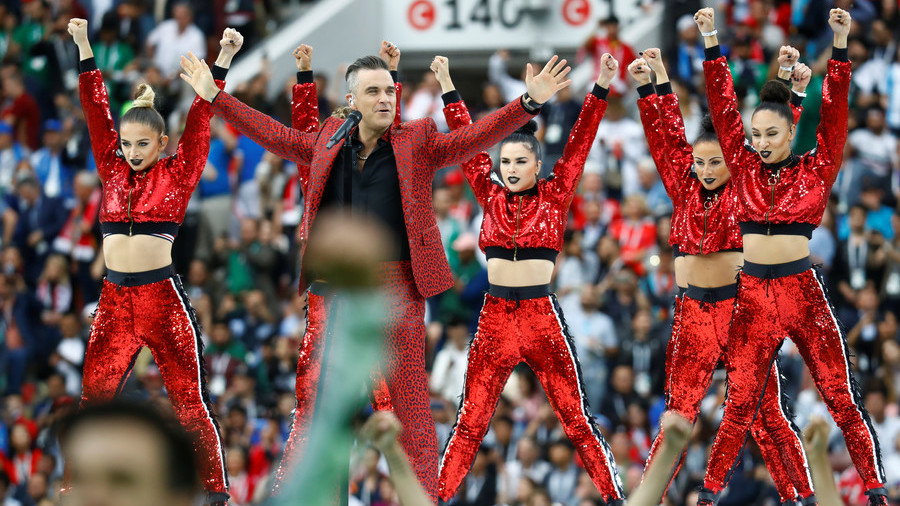 The moment the football world has been waiting for is finally upon us as host nation FIFA 2018 World Cup kicks off at Luzhniki Stadium in Moscow.
Robbie Williams has kicked the opening ceremony off with a blast of 'Let Me Entertain You' - before going into a medley of his hits, including an 'Angels' duet with Russian opera star Aida Garifullina.
Victoria Lopyreva making her way onto the pitch with the official match ball for the World Cup opener while Ronaldo and his little mascot escort dance with bigger official mascot Zabivaka.
There's a spectacular light show to accompany UK pop veteran Williams and opera star Garifullina, with colorfully-decorated dancers bopping to the music.
Performers dressed in the colors of each of the 32 World Cup competing nations have departed, while Williams makes his way around the pitch while belting out 'Rock DJ'.
The Saudi team appear on the big screen and get a cheer from the pocket of Saudi fans behind the goal - prompting booing from the home supporters.
Lots of fans from third nations in attendance at Luzhniki - will that affect the atmosphere?
The teams are out on the pitch to the strains of the White Stripes' 'Seven Nation Army'.
Russian President Vladimir Putin addressing the fans and payers out on the pitch. Putin says: "Russian love football, it is what he call love at first sight ever since the first official match held in the country in 1897."
FIFA President Gianni Infantino starts his speech in Russian, saying 'dear friends, welcome to Russia!'