Is Russia developing air-launched satellite killer?
Is Russia developing air-launched satellite killer? PHOTO of mystery missile test sparks theory
Published time: 1 Oct, 2018 15:04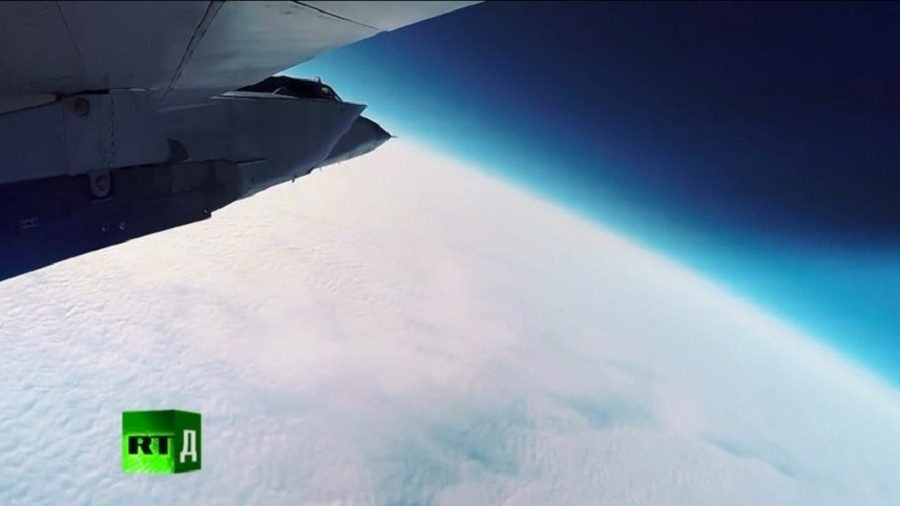 A screenshot from RTD documentary on MiG-31 shows the jet flying in the Earth's statosphere.
A photo of a MiG-31 interceptor jet carrying a huge missile has sparked speculation that Russia has revived an old project involving an air-launched anti-satellite weapon system.
MiG-31 is a superfast Mach-3 fighter jet which recently acquired fame as the platform for the hypersonic Kinzhal missile. A new photo has emerged of a MiG-31 carrying an even bigger rocket during a flight in Zhukovsky, an air range near Moscow. Some believe the black projectile is a full-scale mock-up of a new missile, which may be used to deliver small payloads into orbit or rake down enemy satellites on short notice.
READ MORE: RT documentary about the MiG-31, the world's fastest combat jet initially designed as an anti-cruise missile aircraft
The photo was first published on jetphotos.com by user ShipSash and has been extensively reported on Saturday by The Drive. The defense news website reports that the MiG-31 with ID number '81 Blue' slightly differs in design from the MiG-31BM, the standard upgraded variant of the jet. It appears to be one of two experimental aircraft of this design. Those may be the long-speculated "Izdelie 08" variant, meant as a platform for launching anti-satellite weapons.
The Soviet Union did develop an air-launched direct ascent missile called 79M8 Kontakt, which was meant to be launched from a MiG-31D. Intended as a counterpart for the US ASM-135 anti-satellite missile, the Soviet system wrapped up in the 1990s with the collapse of the Soviet military. There were attempts to repurpose it as a system for space launches of small payloads, but it didn't get far.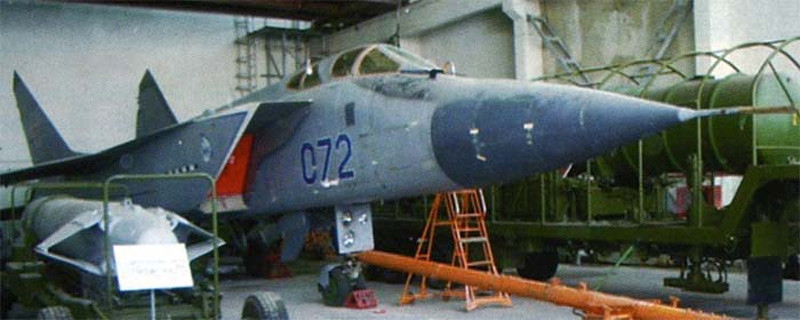 A 79M8 Kontakt missile and a MiG-31D jet in Kazakhstan circa 2003. © airwar.ru
In 2009, then-commander of the Russian Air Forces Aleksandr Zelin announced that the system would be revived. Around the same time, reports emerged about an upgrade of the Krona radio-optical facility, which was meant as a ground component for the system providing targeting data for the Kontakt/MiG-31D pair.
The MiG-31Ds remain at the Sary-Shagan test site in Kazakhstan, where the Krona facility is located and where the testing of the entire anti-satellite system took place. But Russia could have used the old project as the foundation of a new weapon system, which would be part of a multi-layer anti-satellite capability, The Drive believes.
However, there are other possible explanations for the mystery missile spotted over Zhukovksy. It may also be an air-launched ballistic missile similar to the variant of a DF-21D developed by China or an air-launched hypersonic boost-glider.
Think your friends would be interested? Share this story!