Theresa May's Brexit plan rejected by British parliament
Theresa May's Brexit plan rejected by British parliament
RT.com
15.01.2019
The Brexit deal, painstakingly agreed upon with the EU by PM Theresa May last year, has ultimately flopped, as MPs said a firm no. The failure brings even more uncertainty to the fate of May's cabinet and the whole Brexit process.
UK parliament voted down May's Brexit plan on Tuesday by 432 votes to 202 – a margin of 230 – following lengthy debates on the matter. The vote was originally set to be held in mid-December, but was postponed amid fears that MPs would reject the unpopular deal between May and Brussels.
The delay failed to prompt any meaningful changes to aid the PM's cause, as it was ultimately rejected by parliament. The development comes just 10 weeks before the UK is set to leave the EU, bringing even more uncertainty to the already turbulent Brexit process.
ALSO ON RT.COMCorbyn tables no confidence vote in May's Tory govt
Responding to the resounding defeat, May promised that her government "respects the will of the House" but said that it was her "duty to deliver" Brexit for British citizens who voted to leave the EU in 2016.
Every day that passes without a deal, May said, means "more uncertainty, more bitterness and more rancour." She said it was not her government's strategy to "run down the clock" to March 29, when the UK is scheduled to leave the EU, adding that she believes the best way to move forward is in an "orderly way."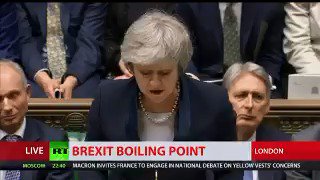 RT
@RT_com
#May: It was 'duty to deliver' #Brexit for British citizens https://on.rt.com/9md5
27 people are talking about this
May had earlier warned that a no-deal scenario made the prospect of a united Ireland, independent Scotland and ultimate breakup of the UK more likely. She called a no-deal scenario "the real threat to our union."
May admitted that it was now necessary to confirm if the House still has confidence in the government and said that if a motion of no confidence was tabled, it would be debated in parliament on Wednesday.
Standing to speak directly after May, Labour leader Jeremy Corbyn said the prime minister had suffered a "catastrophic defeat" and immediately tabled that motion of no confidence in her leadership.
Owen Jones

@OwenJones84
Theresa May's deal has been crushed in Parliament by 230 votes, the biggest defeat suffered by a government in the history of British democracy. If she had any decency she would resign on the spot.
3,261 people are talking about this
Shortly after the vote, a spokesman for May said the government would be in contact with Brussels officials over the coming days and confirmed Downing Street had not ruled out a 'no deal' Brexit.
Shortly after the vote, a spokesman for May said the government would be in contact with Brussels officials over the coming days and confirmed Downing Street had not ruled out a 'no deal' Brexit.
The Irish government said it regretted the outcome of the vote in the British parliament and urged London to set out how it proposes to move forward with Brexit. Referring to the backstop, Dublin said it recalled the "clear position" of the EU that May's withdrawal agreement was not open for renegotiation.
Jason Michael@Jeggit
Irish government has described this as a "crisis." Hard border and the imposition of British citizenship on Irish nationals born in the north will end the Good Friday Agreement. This is not good.
Corbyn tables no confidence vote in May's Tory govt
Published time: 15 Jan, 2019 19:48 Edited time: 15 Jan, 2019 21:45
Theresa May's Tory government is to face a vote of no confidence after the Labour Party, led by Jeremy Corbyn, tabled the motion following the PM's Brexit deal being voted down by parliament on Tuesday evening.
If May's government are defeated, which requires a majority of one in the house of commons, the UK prime minister will have 14 days to stay in office. A second confidence vote will then take place – failure to win such a vote would automatically trigger a general election.
Also on rt.com 'He has failed his responsibility': Theresa May attacks Jeremy Corbyn at final Brexit debate
Tabling the motion, Corbyn said that May had faced a "catastrophic defeat."
"Delay and denial has reached the end of the line," he said.
Corbyn said May had repeatedly failed the British people and failed to deliver on her promise to secure a good Brexit deal.
"She cannot seriously believe that after two years of failure, she is capable of negotiating a good deal for the people of this country," he said, adding that the "most important issue" facing the country is that the government has lost the confidence "of this House and this country."
May had earlier lashed out at Corbyn, accusing him of being "long on criticism and short on coherence."
It is expected that the vote of no confidence will take place at 7pm on Wednesday.
The main sticking point for May on the Brexit deal has been the contentious Irish backstop — a guarantee Dublin sought and won from Brussels that there will be no 'hard' border imposed on the island of Ireland when the UK leaves the EU. May had attempted to gain concessions from Brussels to assuage the fears of pro-Brexit Tories and Northern Irish DUP MPs who were unhappy with the backstop deal, but did not secure any legal changes.
After May's deal was defeated on Tuesday evening, DUP MPs said they would still support her government in the no confidence vote on Wednesday, saying they never sought a change of government, but urged May once again to return to Brussels to get a better deal.
Also on rt.com Theresa May's Brexit plan rejected by British parliament
Scotland's first minister Nicola Sturgeon said that the Scottish National Party supported Corbyn's tabling of a no confidence motion, describing the vote as "a defeat of historic proportions" for May. Sturgeon accused the prime minister of wasting "valuable time" by delaying the vote in December when it was clear she did not have the support needed.
Sturgeon said the "only credible option" remaining was to hold a second Brexit referendum. That was also the only option that would "allow Scotland's democratic wish to remain in Europe to be respected," she added.
'Only positive solution': EU chiefs hint at 2nd referendum after May's Brexit deal defeat

15 Jan, 2019 22:03

A rally demanding a second Brexit referendum in London in December. © REUTERS/PETER NICHOLLS

Led by European Council president Donald Tusk, EU officials sensed an opportunity in the chaotic aftermath of Theresa May's humiliating Commons defeat, to suggest reversing the results of the 2016 Brexit referendum.

"If a deal is impossible, and no one wants no deal, then who will finally have the courage to say what the only positive solution is?" Tusk winked and nudged on his Twitter, to exclamations of "Remain!" from his audience.

The former Swedish foreign minister and current co-chair of the European Council on Foreign Relations, Carl Bildt, even has a date for a potential second referendum lined up, though after May's deal was rejected by a historic margin, it is not clear what question could be asked.

One of the most vocal advocates of ever-closer European integration, Europarliament Brexit coordinator Guy Verhofstadt, proposed a "new deeper comprehensive" relationship with the UK. He spoke to reporters outside a meeting in Strasbourg with Michel Barnier, the chief EU Brexit negotiator.

Juncker, Tusk and Barnier . © REUTERS/YVES HERMAN

Barnier himself was less keen to dance on the embers of an agreement he himself helped create, telling the media that Brussels was still "determined to reach a deal," though he did notably retweet Tusk's message above.

EU commission chief Jean-Claude Juncker, who will step down from arguably the most senior European post later this year, merely chose to ramp up the pressure on May's embattled government.

Meanwhile, if the UK prime minister thinks that her failure to squeeze past a Brexit deal that included an EU-sanctioned and controlled backstop and a £39 billion "divorce settlement" would engender more concessions from Brussels, she is likely to be disappointed.